Whether you're launching a new personalisation business, want to add value to existing product lines, or are a manufacturer looking to increase efficiency by bringing production in-house, combining two technologies such as UV printing and laser engraving can open up a new world of creative possibilities for your business.
Print, Cut and Engrave with Two Technologies
Combining Roland DG's LV Series laser engraving machines with the VersaUV LEF/LEF2 Series UV printers results in a powerful, integrated solution that allows you to create stunning giftware and unique customised products.

Cut out wood, leather and acrylic and mark on glass and coated metal with the LV's laser-precise non-contact CO2 laser. You can print amazing photo-realistic colour, textures and simulated 3D embossing with the VersaUV LEF/LEF2 series UV-LED printers, as well as gloss and matt finishes on objects up to 100 mm thick.
Diversify Your Product Range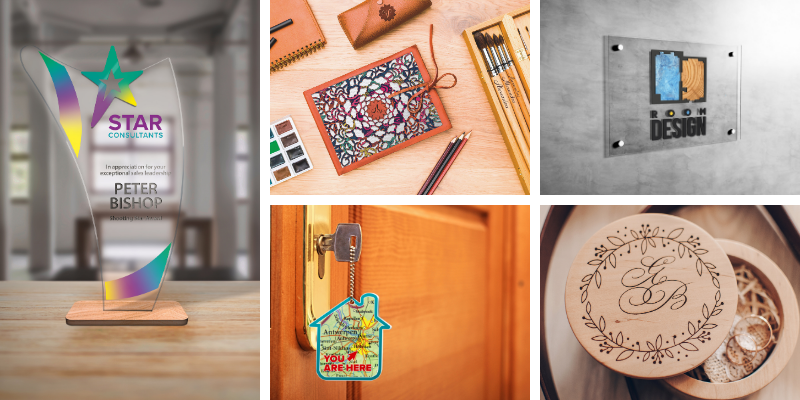 The LV series laser engravers and VersaUV LEF2 printers add choice and diversity to your product range. Add photos, art, text and textured effects onto existing products or cut out your own items for marking or engraving. Compatible with an extensive range of materials, from plastics to wood, leather, paper, cork and more, you can create premium-value custom items on demand.

Your product range can include:
Trophies and plaques – UV-print colour-accurate logos, branding and intricate text onto trophies and plaques; cut out shapes in wood and acrylic with the laser engraver and add engraved elements for decorative features and personalisation.
Acrylic signs – LV series laser engravers are ideal for engraving or cutting shapes out of acrylic, adding another level of detail to your UV printed signs.
POP displays and interior décor – combine complex cut shapes with stunning gloss and embossed effects for eye-catching displays and high-end interior décor items.
Wooden signs – produce eye-catching signage by UV-printing vivid full-colour graphics and photographic images onto wood, acrylic and more. Cut out intricate text and shapes and add decorative elements, including 3D reliefs, with laser engravers.
Stationery items – produce unique, UV-print and cut designs with added laser-engraved decorative effects for premium notebooks, portfolios, and photo albums. Precisely print, engrave and mark on pens, USB flash drives and other stationery items.
Promotional items and merchandise – combine UV print and laser engraving to create branded products including key chains, key fobs, phone covers, and more.
Grow Your Business and Your Profits

It's easy to integrate the LV series engraver into your current print production workflow and there is choice of machine sizes to suit your space, budget and media requirements.

Click here to discover more.