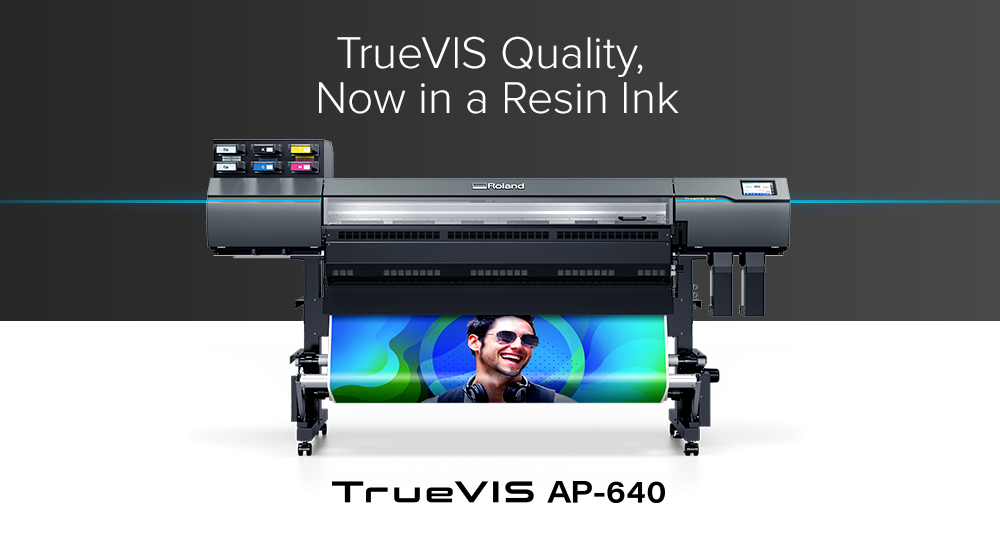 Premium 4-colour Resin printer with fast drying inks, excellent durability and optimum usability.
NEW

TrueVIS AP-640 Resin Printer
LIST PRICE

AU $32,994.50

RRP inc. GST

RENTAL PRICE

AU $752 / Month

For 60 months inc. GST

Roland Rental
Build and expand your sign and graphics business with a wide range of applications, low running-costs, and the quick drying benefits of Roland DG's first resin printer.
Dual, staggered printheads with variable dot printing and True Rich Color presets offer natural, vibrant print results with higher colour saturation
Water-based TrueVIS Resin Ink provides quick-drying, scratch-resistant, and safe results on a wide range of media
Legendary Roland DG machine reliability, service, and support now available in a resin ink printer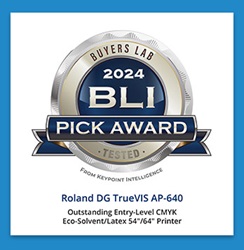 WINNER
Keypoint Intelligence BLI Pick Award
Keypoint Intelligence Shares
Why They Awarded the AP-640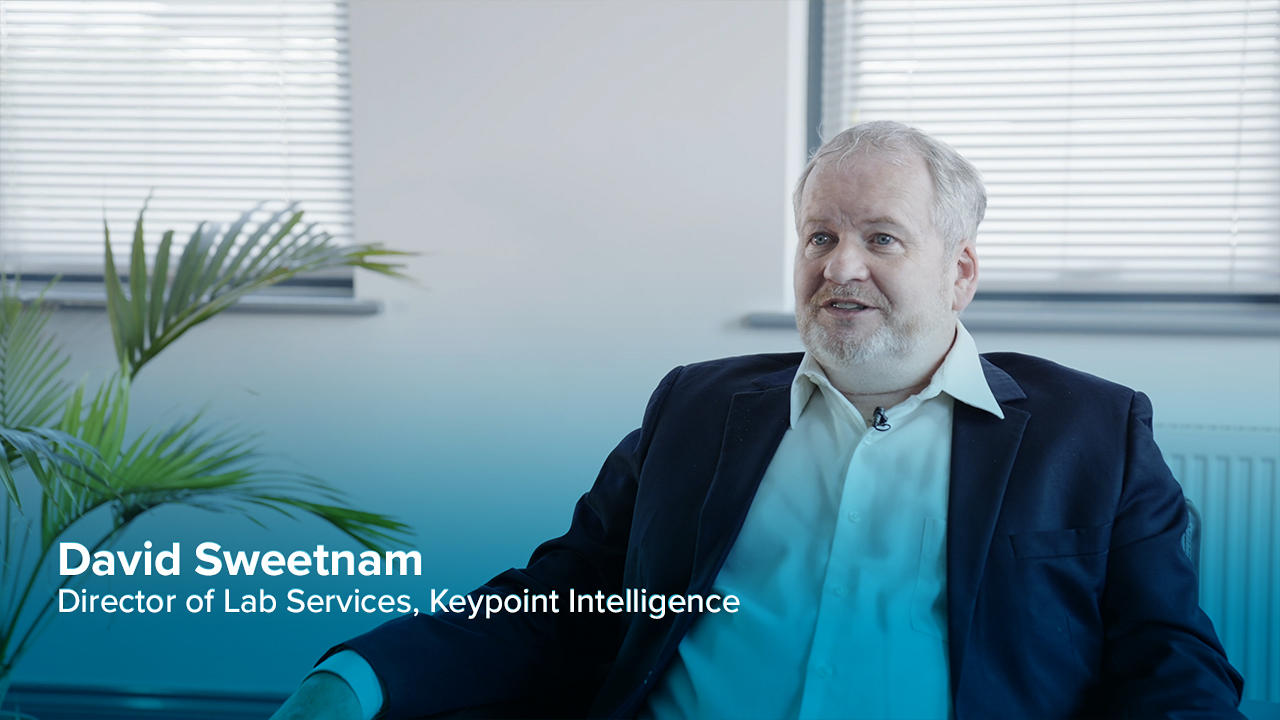 Resin Printing
Just Got So Much More Vivid and Exciting
Until now, resin printing was associated with flat, uninspiring colour. Enter the TrueVIS AP-640 that's redefining resin printing with high colour saturation on a wide range of materials from uncoated PVC to non-PVC media. It features new TrueVIS resin ink and advanced machine features to optimise colour reproduction on vinyl, paper, film, and specially formulated fabrics — expanding your graphics to include flags, roll-up screens, textiles, wallpapers, and so much more.
What Makes the TrueVIS AP-640
Resin Printer so Amazing?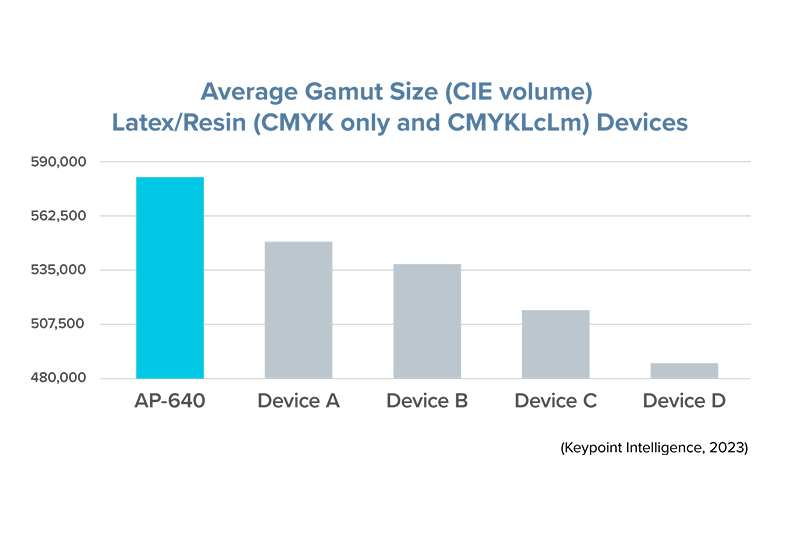 The Widest Color Gamut in its Class
TA Inks boast the widest gamut and most vibrant colors of any 4-color resin/latex wide-format printer.* The TrueRichColor 3 print setting maximizes the potential of the printer and inks, so you can produce highly impactful graphics that combine vivid colors and natural tones that viewers are sure to love.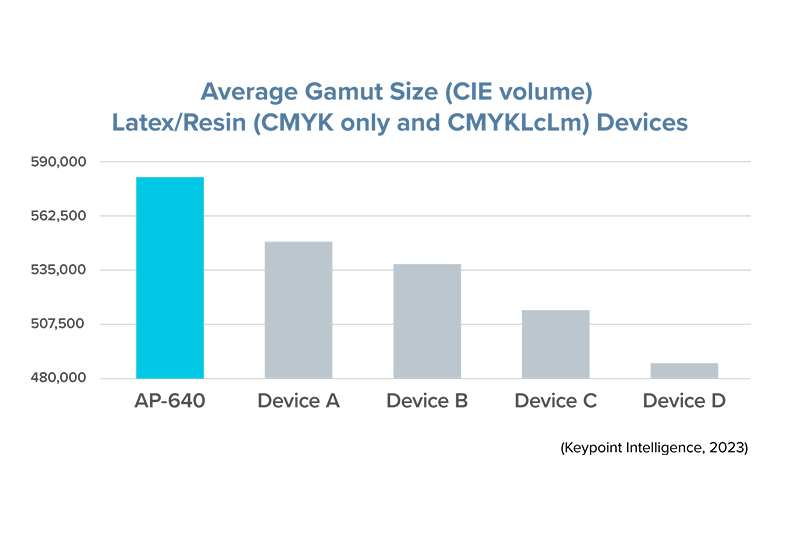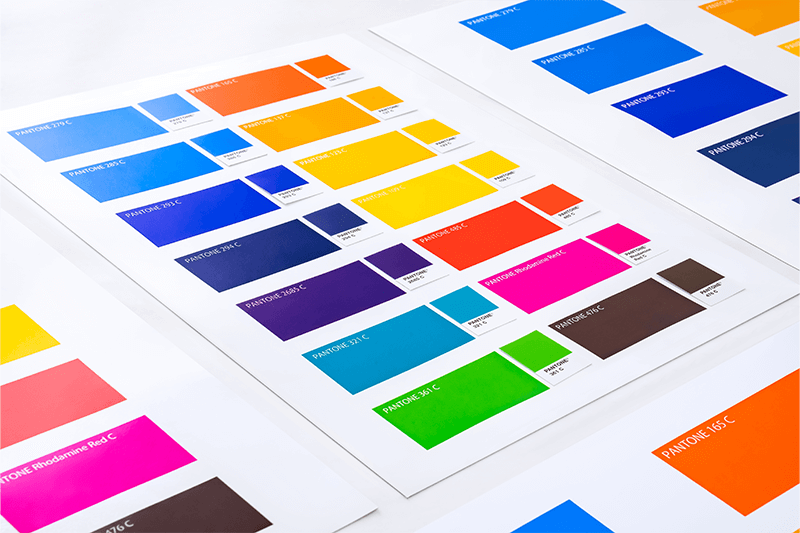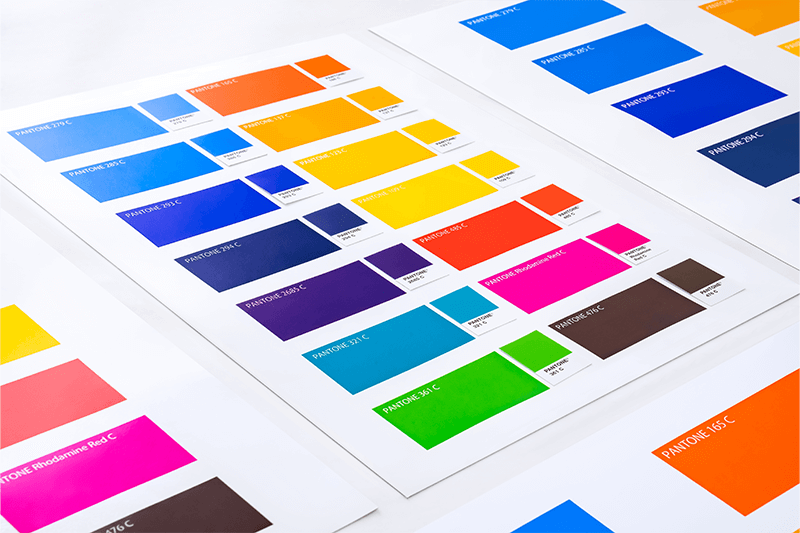 Spot Colors That Are Spot-On
The AP-640 offers excellent color reproduction capabilities, allowing you to match brand colors, even those that are traditionally difficult. Consistent, high-quality output can be produced in short turnaround times, keeping your customers coming back for more.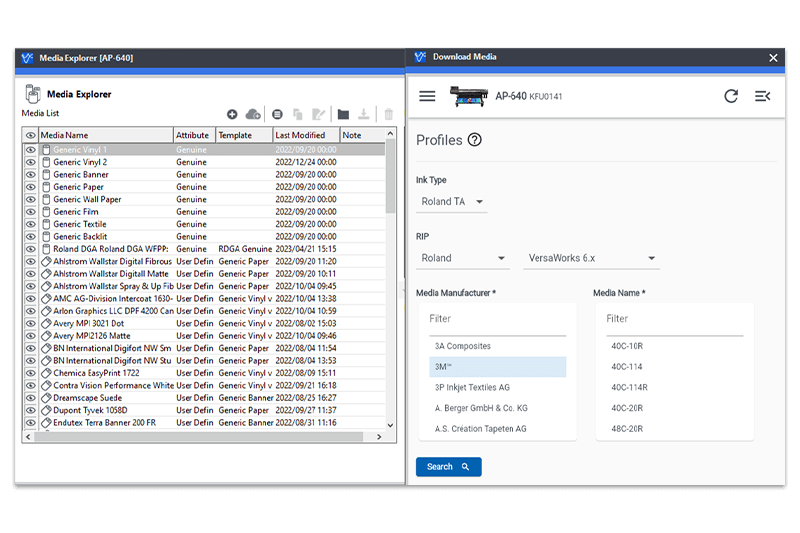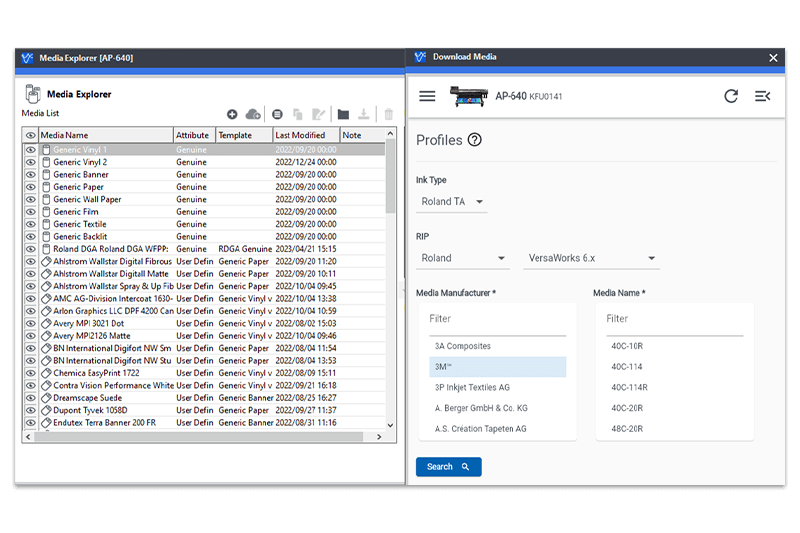 Media Profiles Ready to Go
More than 300 popular media profiles are ready for use with the AP-640 and TA Ink, including PVC and non-PVC media, such as wallpaper, paper, film, vinyl, roll-up screens, textiles, canvas, heat transfer paper and more – so you can be ready to produce a wide range of applications right from the start.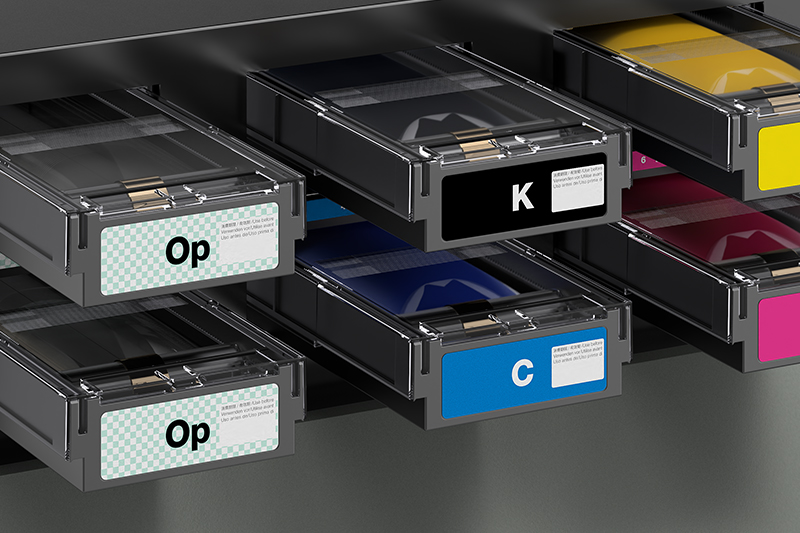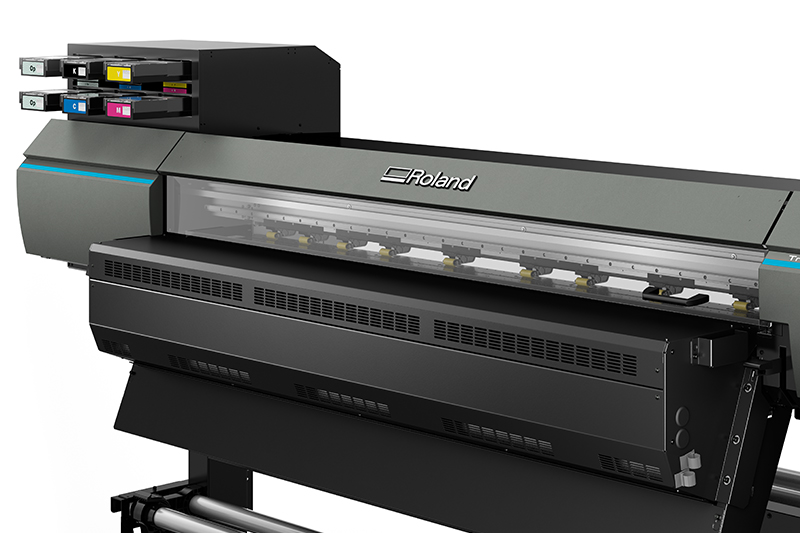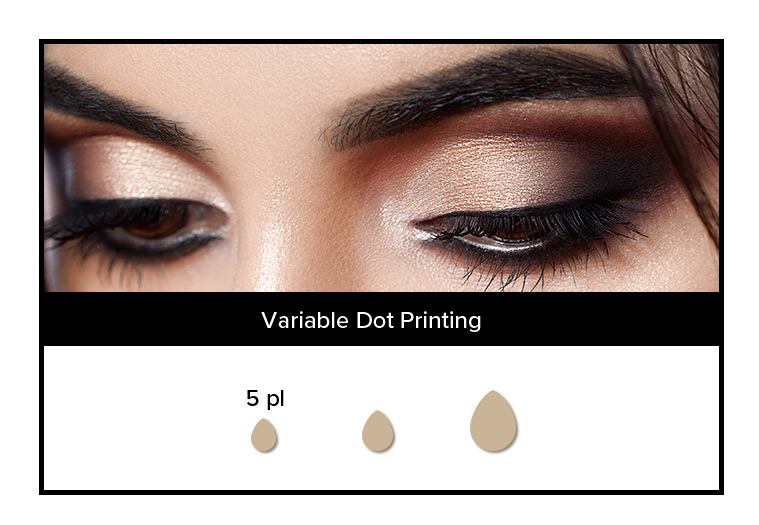 Variable Dot Printing
TrueVIS resin printers benefit from hundreds of dedicated, media-specific printing profiles that control optimal ink volume and drying temperature. An optimiser prepares the media surface facilitating the formation of precise dots while variable dot control technology fires three types of ink droplets to create unparalleled image quality, producing natural beauty and vividness never before seen in a resin ink printer.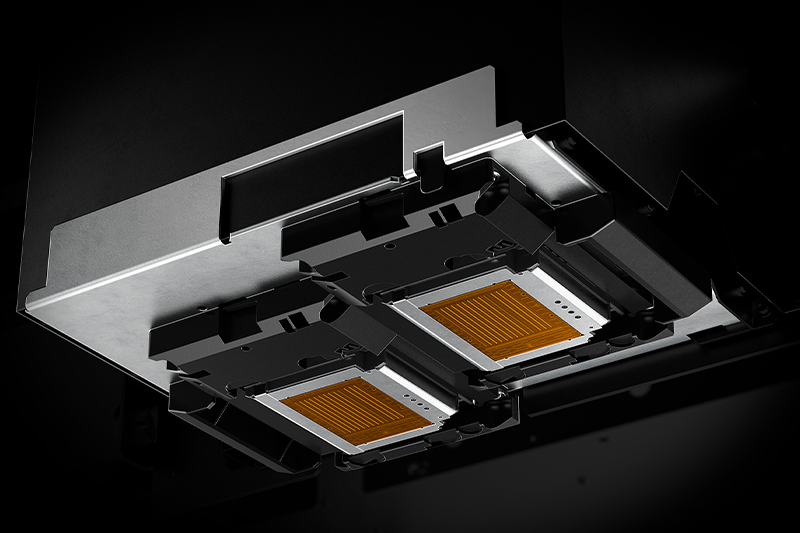 Dual Staggered Printheads for Resin Inks
Printheads are arranged in a dual, staggered formation with an optimiser printhead that preps the media surface for the CMYK printhead. This enables ink droplets to form a finer dot, resulting in more precise colour and images.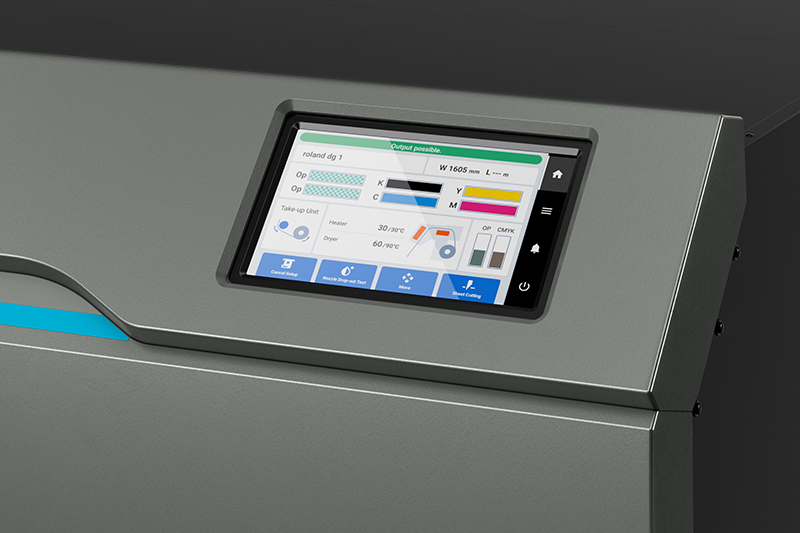 Touch-Panel Operation
A 7-inch, full-colour touch panel with intuitive settings and functions makes print operations simple. Clearly defined icons for set-up, maintenance, print volume, consumables, print status, and more allow for a convenient, streamlined workflow.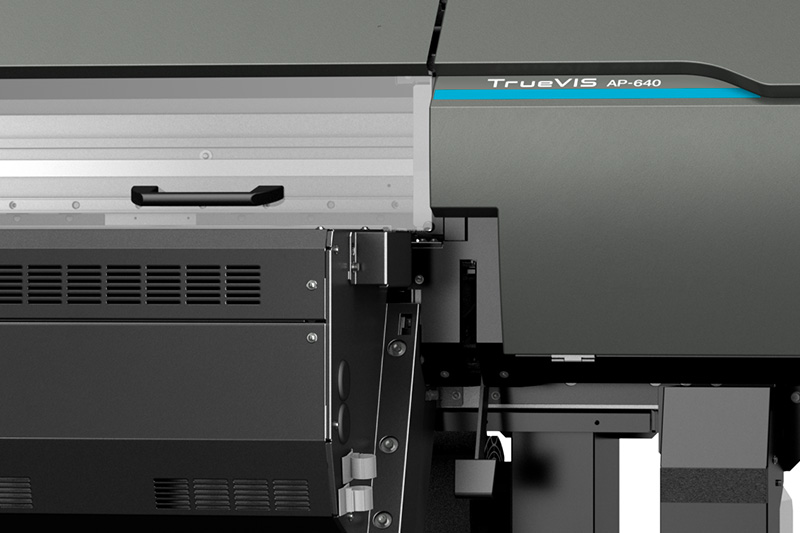 High-Productivity Dryer Unit
Newly designed drying unit allows prints to dry quickly and completely before proceeding to the next process, saving hours of production time.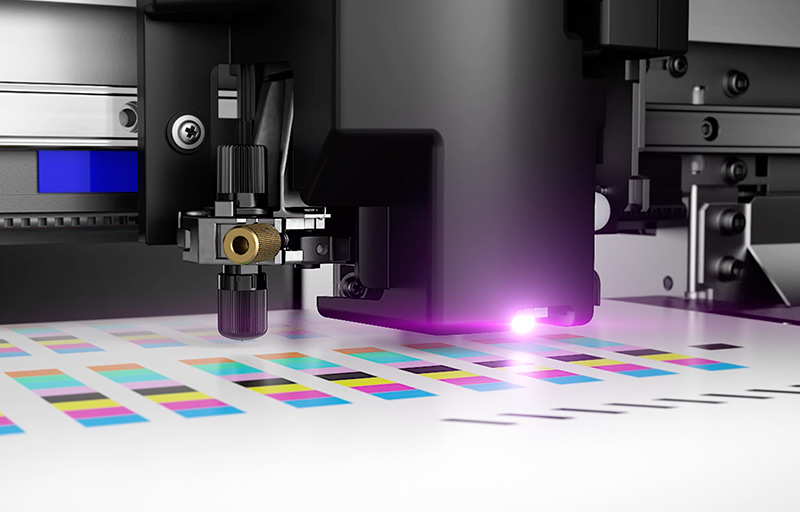 Automatic Gap Adjustment
Media gap and feed compensation can now be adjusted automatically with a single button. The AP uses optical registration technology to ensure print accuracy and avoid variations in output.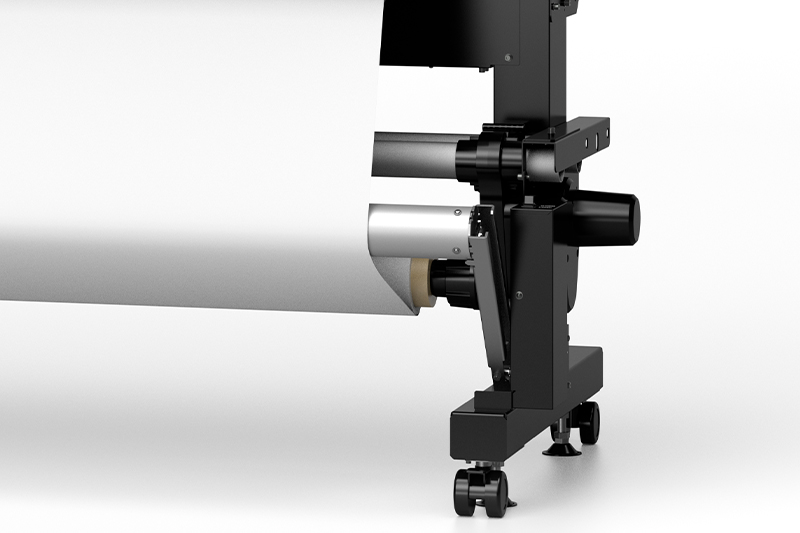 Included Take-Up Unit
An adjustable take-up provides print stability for a wide variety of popular media. It also allows easy installation of a loading platform for clean, efficient media collection.


Instant Drying
Drying time is virtually eliminated thanks to a built in heating unit.
Speed is Key
Dual, staggered Piezo printheads receive optimiser and ink in tandem to maintain optimal workflow.
Improved Ink Capacity
New 700 ml high-capacity ink pouches are easily replaceable, supporting economical and environmental printing operation.
Resin Ink Re-imagined
Our newly developed water-based resin ink and innovative True Rich Color 3 preset works together to ensure vibrant colour and natural-looking print quality time and again.
Versaworks 6
The AP-640 comes with user-friendly, feature-filled RIP software, and Roland DG Connect print operation app.
Low Running Costs
High pigment, quick drying resin inks let you produce more output with less ink, effectively reducing running costs.
Included VersaWorks 6
RIP Software
The latest edition of the world's most popular RIP software seamlessly combines with our new AP-640 resin printer technology to effortlessly manage your print output.
Advanced and easy cropping, tiling, nesting and other features.
Match colour output between different printers and print modes from a single printer with Printer Color Match Settings that integrate profiling tools such as the i1 Pro3 and new VW-S1 colour measuring tool.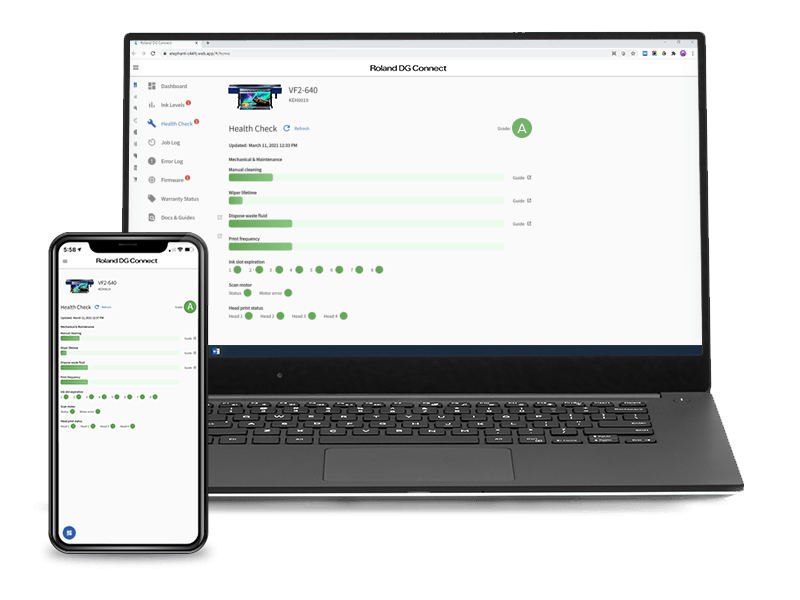 Roland DG Connect App
For Everything Creative
Gain a detailed understanding of your entire print operation while keeping your device running at optimum performance with a user-friendly app specially designed to integrate seamlessly with your TrueVIS AP-640. Reduce downtime and improve efficiency with a machine monitoring assistant that works in complete harmony with your device.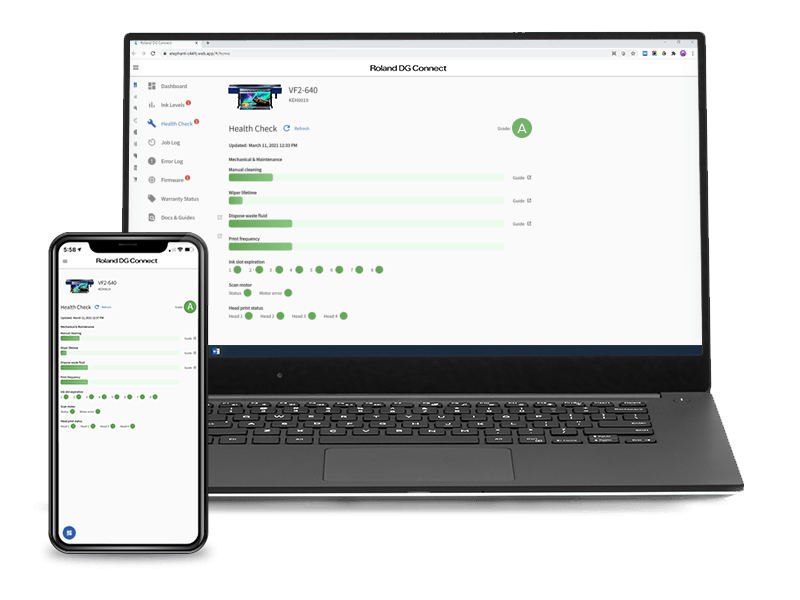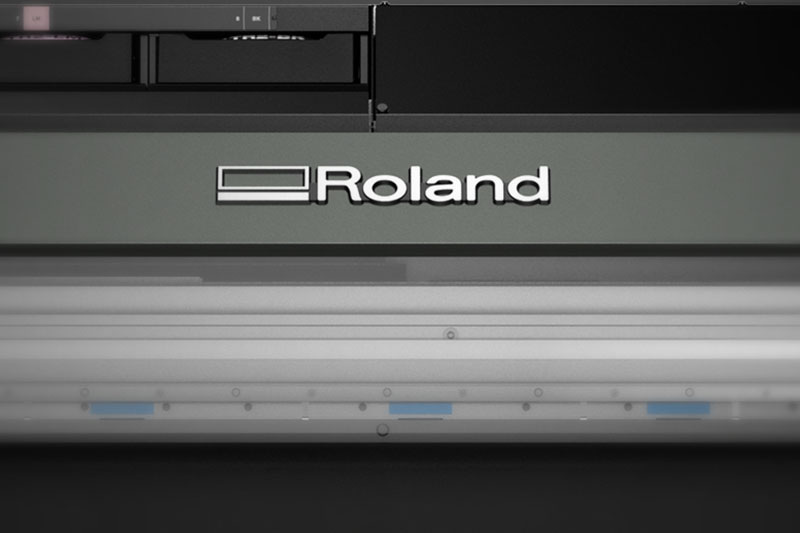 Powering the Future of Printed Signs and Graphics
Multi-award winning TrueVIS printers and printer cutters, now available in a variety of models and print production solutions, have become the benchmark for colour quality and performance in the large-format sign and graphics industry. The professional's choice for building brand consistency, building the highest quality print output, and building confidence in your business, the AP-640 is designed for passionate professionals like you, who need quality, dependability, and versatility to achieve new levels of success.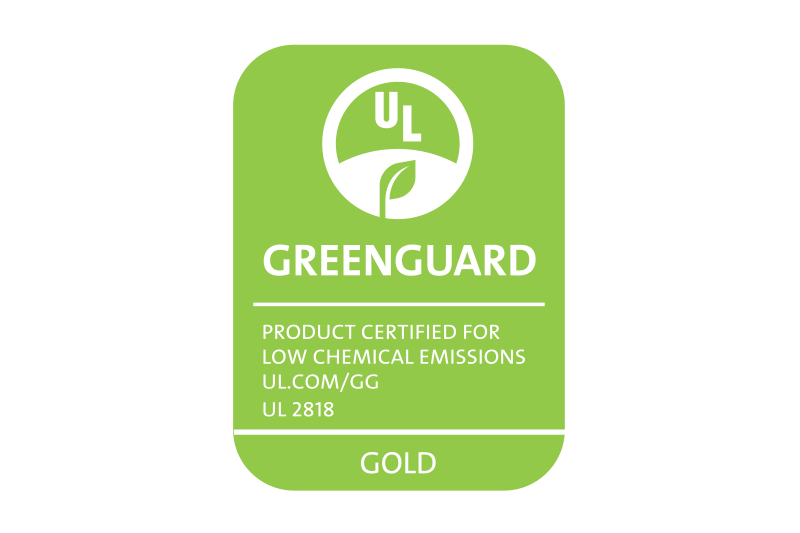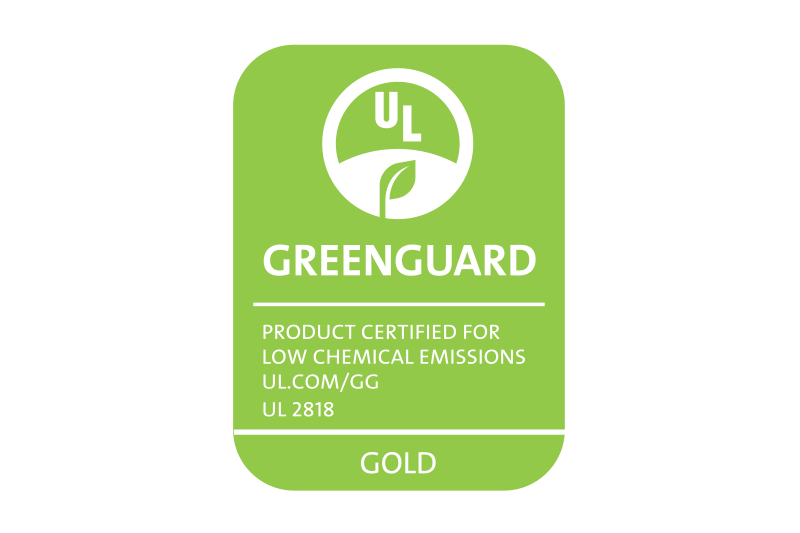 GREENGUARD Gold Certified
TrueVIS Resin Ink
New TrueVIS Resin Ink not only images beautifully and dries quickly, it's also GREENGUARD Gold certified. That means it meets some of the world's most rigorous chemical emissions standards to help reduce indoor air pollution and the risk of chemical exposure. With its low VOC (Volatile Organic Compounds) emission level, TrueVIS Resin ink is safe, environmentally friendly, and acceptable for use in even the most sensitive indoor environments, including schools, hospitals, and other types of healthcare facilities.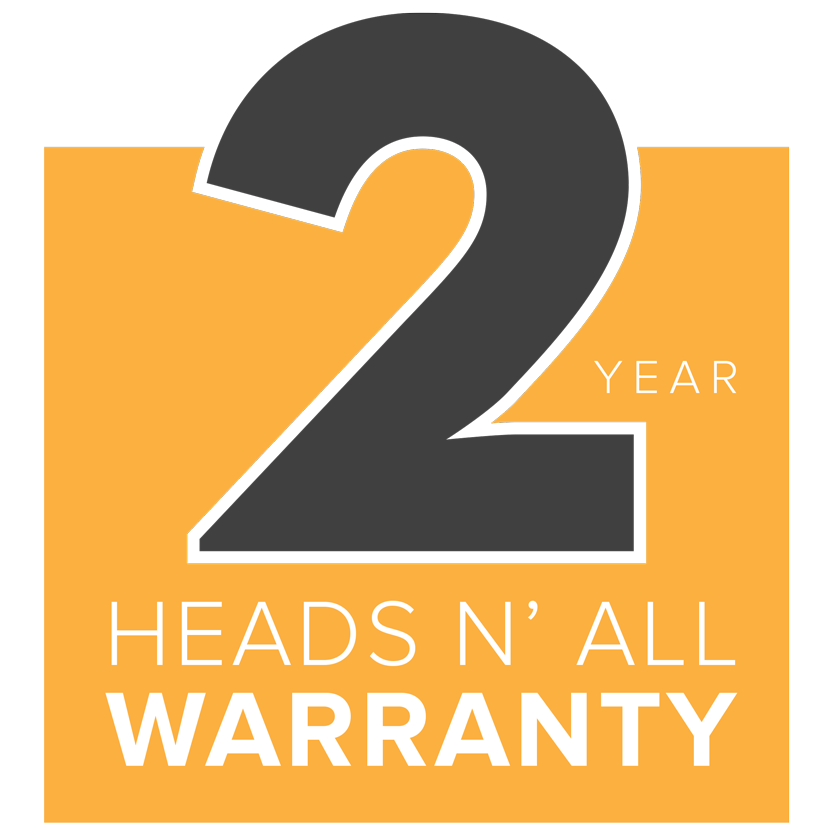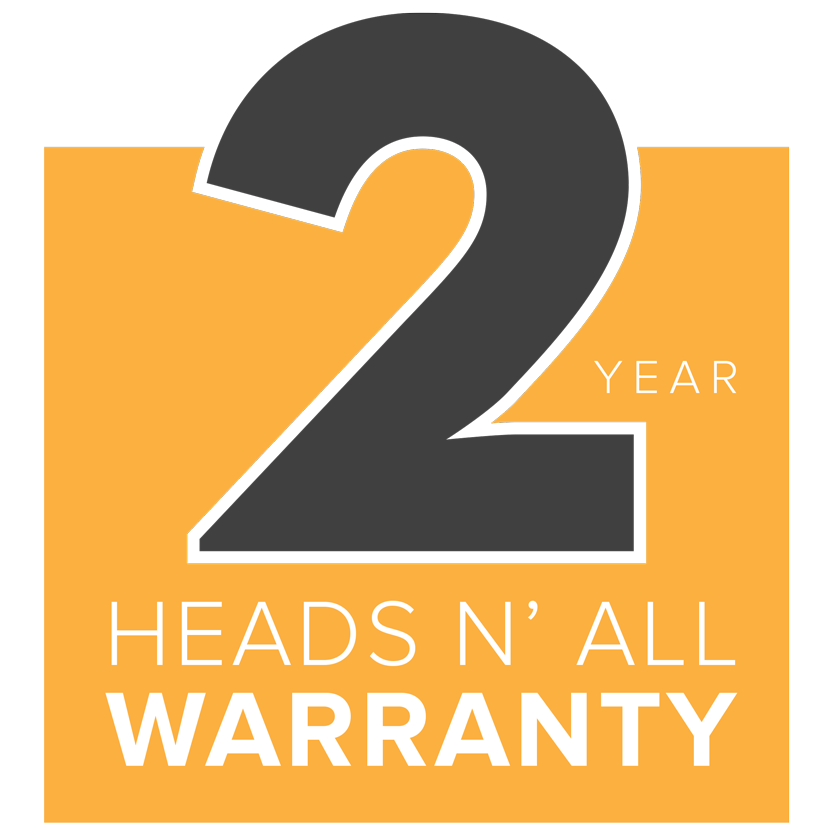 Roland DG's Industry-Leading Warranty and Support
For over 40 years, Roland DG has provided industry professionals with the most advanced and reliable machines, backed by unmatched customer service and technical support. The AP-640 comes with a 2 Year Heads N' All Warranty to give you added peace-of-mind and machine support.
Additional Information
Expand All
|
Collapse All
Specifications 
TrueVIS AP-640
AP-640
Printing method
Piezo ink-jet method
Media
Width
10.2 to 64 in. (259 to 1,625 mm)
Thickness
Max. 0.039 in. (1.0 mm) with liner
Roll outer diameter
Max. 9.8 in. (250 mm)
Roll weight
Max. 99 lb. (45 kg)
Core diameter
3 in. (76.2 mm) or 2 in. (50.8 mm)
Printing width (*1)
Max. 63.5 in. (1,615 mm)
Ink
Type
Resin ink 700 ml pouch
Colours
Four colours (cyan, magenta, yellow, and black) and optimizer
Printing resolution (dots per inch)
Max. 1200 dpi
Ink drying system (*2)
Print heater set temperature: 77 to 113°F (25 to 45°C)
Dryer set temperature: 158 to 230°F (70 to 110°C)
Connectivity
Ethernet (100BASE-TX/1000BASE-T, automatic switching)
Power-saving function
Automatic sleep feature
Rated Input
Printer: 200-240 Va.c. 50/60 Hz 3 A
Dryer 1: 200-240 Va.c. 50/60 Hz 10 A
Dryer 2: 200-240 Va.c. 50/60 Hz 10 A
Power consumption
During operation
Approx. 4,000 W
Sleep mode
Approx. 65 W
Acoustic noise level
During operation
69 dB (A) or less
During standby
53 dB (A) or less
Dimensions (Width x Depth x Height)
113.7 in. × 33 in. × 61.1 in. (2,886 mm × 836 mm × 1,550 mm)
Weight (with stand)
587 lb. (266 kg)
Environment (*3)
During operation
Temperature: 68 to 86 °F (20 to 30 °C),
Humidity: 20 to 80 %RH (no condensation)
Recommended Environment
Temperature: 68 to 77 °F (20 to 25 °C),
Humidity: 40 to 60 %RH (no condensation)
Not operating
Temperature: 41 to 104 °F (5 to 40 °C),
Humidity: 20 to 80 %RH (no condensation)
Included items
Dedicated stand, power cords, dryers, media take-up unit, media holders, separating knife, replacement blade, cleaning liquid bottle for maintenance, drain bottle, User's Manual, software (VersaWorks, Roland DG Connect), etc.
*1 The length of printing is subject to the limitations of the program.
*2

Warm-up is required after power up. This may require 5 to 20 minutes, depending on the operating environment.
Depending on the ambient temperature and media width, the preset temperature may fail to be reached.

*3 Use the machine in an operating environment within these ranges. Also, printing in the recommended environmental conditions (A) is recommended to prevent or reduce any possible differences in print quality depending on media