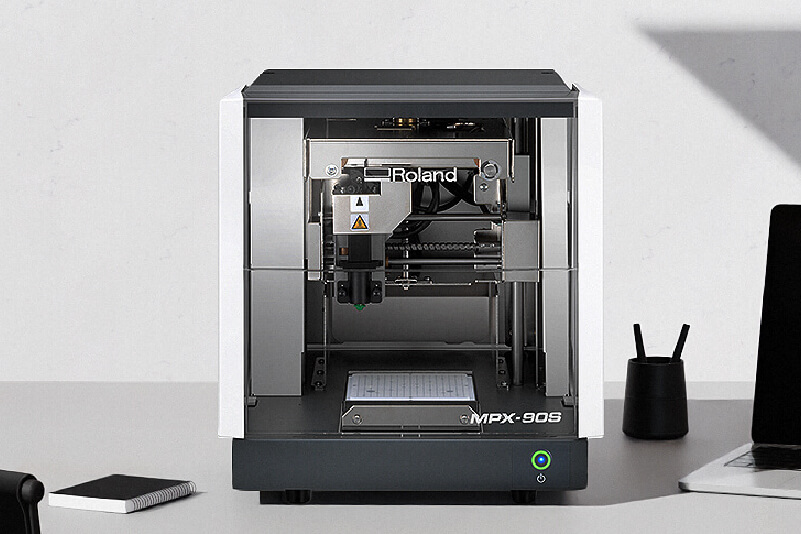 Make Your Mark
VersaSTUDIO MPX-90S Desktop Metal Printer
AU $6,924.50

RRP inc. GST
Perfect for gift personalisation, the VersaSTUDIO MPX-90S metal engraving machine is a cost-effective, user-friendly way to mark gold, steel, silver, titanium, brass and aluminium.
Small investment, big profit
Compact footprint
Engrave photos precisely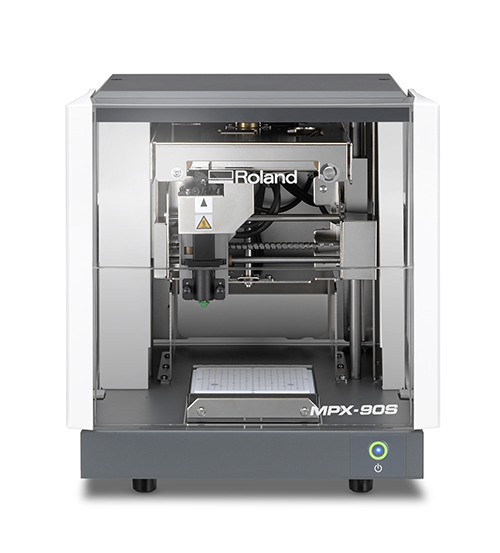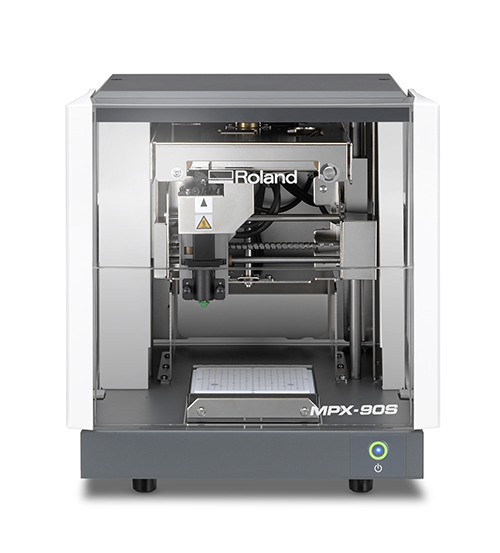 Pocket-sized Personalisation
The MPX-90S lets you create a wide range of custom engraved products easily and quickly. Simple to use without special expertise and filled with profit-making potential, this is a perfect solution to start your venture into personalisation with very little initial capital.
Photo Keyrings
12
per hour*
Personalised Pens
60
per hour*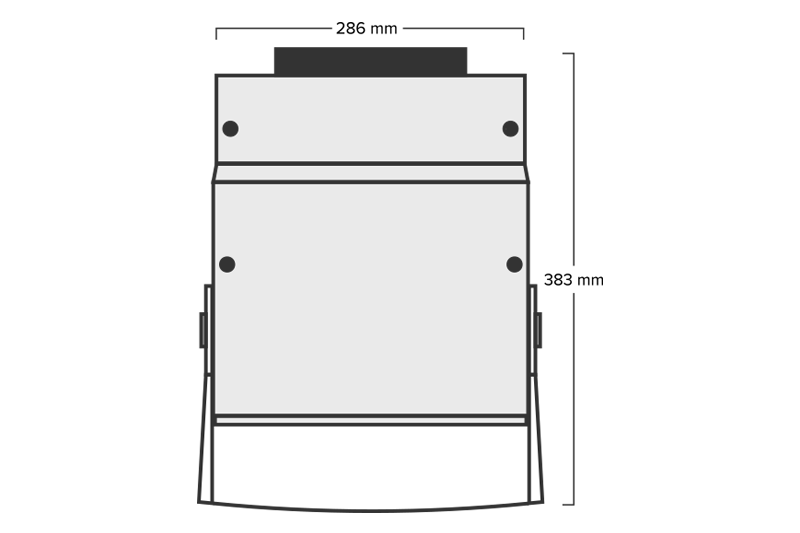 Less Space - More Opportunity
Start producing personalised products today. You can fit your entire business on an office desk or a kitchen table and create the foundation to build something even bigger in the future.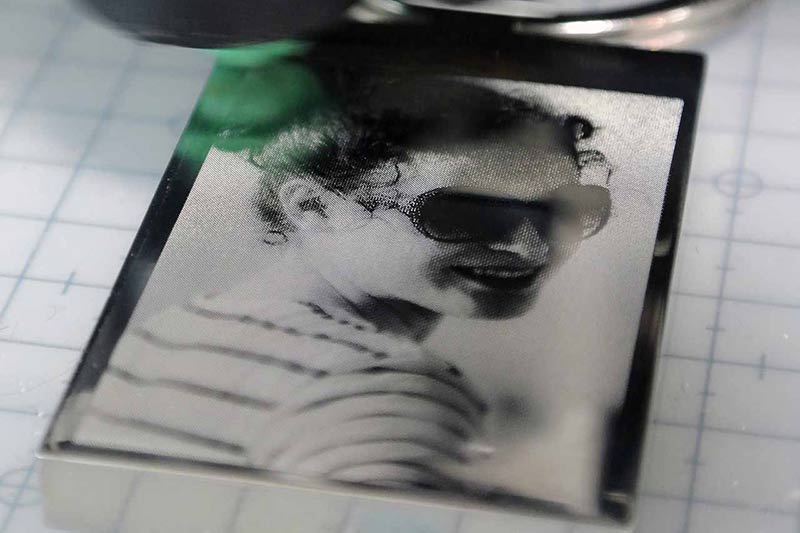 Engrave Photos on Metal
With the MPX-90S solution, you have everything you need to print text, logos and even photos onto metal items. In a matter of minutes, you can turn inexpensive blank items into highly desirable and lucrative products.
Key Benefits
Great Return on Investment
Quickly create high-quality products with a generous mark up.
The Roland DG Legacy
Make a safe investment with Roland DG's world-renowned quality and reliability.

Clean Environment
The device generates no shavings or dust and does not produce odours or smoke.
Fast Set-up and Ease of Use
Plug in and start working immediately thanks to Roland DG's user-friendly interface.
Intuitive Software Included
METAZA Studio included, letting you easily create designs and engrave in a simple workflow.
Light and Portable
Easily set up the device in any permanent space or take it to events for instant item marking.
With the MPX-90S, you get more than just a device - you get everything you need to succeed.


MPX-90S Metal Printer
Go even further with our latest desktop metal engraver*
METAZA Studio Software
Power your personalisation with this user-friendly software
Roland DG Care

Complete range of premium after-sales services
Clamping Tools

Mark a wide range of objects safely and securely
Additional Information
Expand All
|
Collapse All
Specifications 
VersaSTUDIO MPX-90S
Model
MPX-90S
Imprintable material
Gold, silver, copper, platinum, brass, aluminum, iron, stainless steel, etc. *1
Loadable material size (width) × (length) × (thickness)

Max. 100 mm × 200 mm × 40 mm
Imprint area

Max. 80 mm × 80 mm

Resolution
High resolution
529 dpi
Photo
353 dpi
Text
265 dpi
Vector
1058 dpi
Imprint direction
Unidirectional imprinting or bidirectional imprinting *2
Imprint speed (Default)
High resolution
33 mm/sec
Photo
50 mm/sec
Text
33 mm/sec
Vector
24 mm/sec
Interface
USB
Power requirements
Dedicated AC adapter
Input
100 to 240 VAC, 50/60 Hz
Output
19 VDC, 2.1 A
Rated current
1.6 A

Power consumption
Approx. 24 W
Operating noise
70 dB (A) or less
Operating environment
Temperature: 10 to 30°C (50 to 86°F), humidity: 35 to 80%RH (no condensation)
External dimensions (width) × (depth) × (height)

286 mm × 383 mm × 308 mm (11.26 in. × 15.08 in. × 12.13 in.)
Weight
10.8 kg
Included items
AC adapter, power cord, test-use imprinting material, USB cable, Safety Precautions, etc.
*1 Vickers hardness [HV] of the imprinting surface must be 200 or less.
*2 Selectable with Windows driver
System Requirements for USB Connection
Model
MPX-90S
Computer
Model preinstalled with Windows 11, 10, or 8.1 (32- or 64-bit), or upgraded computer originally preinstalled with Windows 8.1 or later
USB cable

Use the included USB cable.
The Peace of Mind That Comes with Buying a Roland DG Device
With the MPX-90S you get the same built-to-last reliability and unmatched service and support that Roland DG devices are famous for. Like all Roland DG products, the MPX-90S was designed and manufactured at a state-of-the-art, ISO-certified facility. With a 3 Year Parts 'N All Warranty, you have the peace of mind knowing your device is backed by one of the most comprehensive warranty packages in the industry.