The sign market has never been static and has always required innovative thinking, but now more than ever, businesses need to be open and flexible to new regulations, trends, and interests.

So, what are the new applications and opportunities in 2020?
Big Sign Shops Think Smaller, Small Sign Shops Think Bigger
Looking at the industry as a whole, sign and graphics providers are beginning to reassess their products and recognise a need to facilitate niche markets as well as core large format ones. This applies as much to the bigger shops as it does to the smaller ones. Personalisation is more expensive for sign shops with ten or more employees in comparison to leaner, smaller businesses who can charge less to personalise items.

As a small graphics studio or a large sign shop, there's a place for each of these production models and the need for businesses to be flexible is critical right now.

Roland DGA Digital Print Manager, Daniel Valade, explained: "We're seeing bigger businesses dedicating resources to niche personalisation services like facemasks and t-shirts, while smaller shops are upgrading from BN-20's to TrueVIS machines to print larger applications and expand their products to include items like floor graphics and signage for canopies and outdoor dining."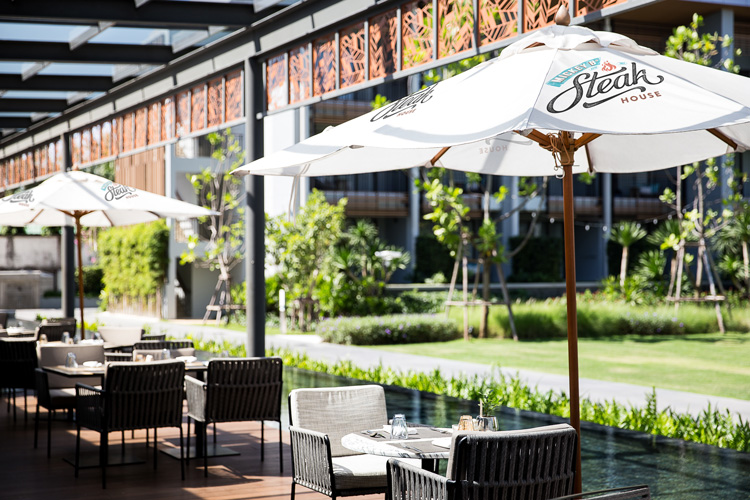 Signage applications like custom-branded outdoor canopies, pop-up tents, and umbrellas are something that both small shops and bigger shops might consider offering right now.
Floor Graphics Can Be Used for More Than Social Distancing Applications
While floor graphics applications are obviously not new, they have suddenly come into focus, generating fresh new interest for customers and clients, because of a need for social distancing floor signage.

The idea of offering faux rugs, tiles, and other floor graphic applications has a lot of reach not only as décor products for households, but also for restaurants and other places of business who want to make a big impression as they start opening up again. These types of niche applications are born from a situation where people are having to think creatively and find their own space in the market.
New Material for New Types of Signage
Lily Hunter, Roland DGA Product Manager of eCommerce & Supplies, is also recognising broad changes in the sign and graphics market, especially in regard to new materials being used and the opportunities that products like antibacterial over laminate represent. Some media manufacturers are developing over laminate film products with an antimicrobial agent to inhibit the growth of microorganisms, offering huge implications for the sign and graphics market: "Everyone from hospitals and schools to restaurants and offices are looking to make their environments safer. This not only means adding essential new safety signs and social distancing signage with antibacterial over laminate but also re-installing old signage to bring it in-line with specific company standards as a precaution against bacteria spread."

Lily also described how she can foresee antibacterial laminate material becoming more commonly requested by customers for things such as restaurant menus, handouts in hospitals, and displays in grocery stores, and how being one of the first sign shops in your area to offer this service, could make a big difference to a business, "Sign and graphics providers should be reactive to what's happening in their neighbourhoods— identifying customer needs that aren't being met in the local marketplace".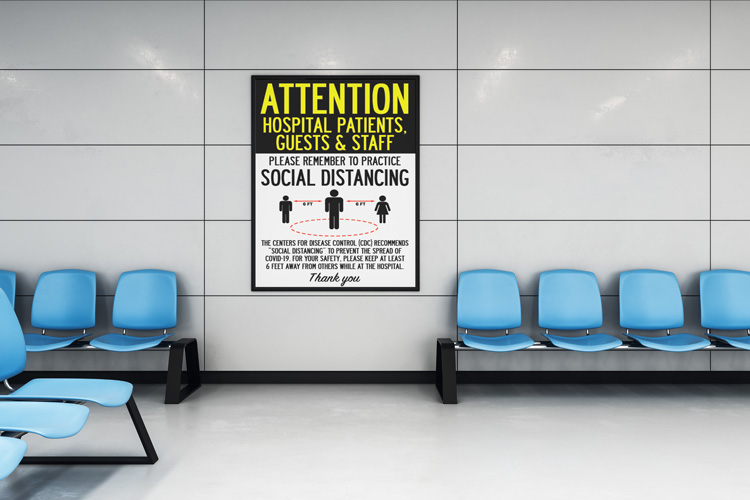 Become an early adopter of signage with antibacterial over-laminate to keep places like hospitals and schools safer environments for health workers, teachers, and pupils.
Taking Signs and Graphics Deeper Indoors and Further Outdoors
There is a dichotomy in the types of signs and graphics that people are producing right now that reflects the situation that many of us find ourselves in. While people are spending more time indoors, businesses like gyms and restaurants are trying to take their operations outdoors with a need for outdoor signs, graphics, and canopy products. While talking about this contrasting situation, Lily described how people are looking to make their household more customised, "People are in their homes more and they're looking to make their household environments as comfortable and personalised as possible… products like custom duvet covers, pillowcases, sheet sets, shower curtains, children's play tents, pet beds, and other décor items have increased in popularity and I'm seeing more examples of sign and graphics businesses showcasing these applications."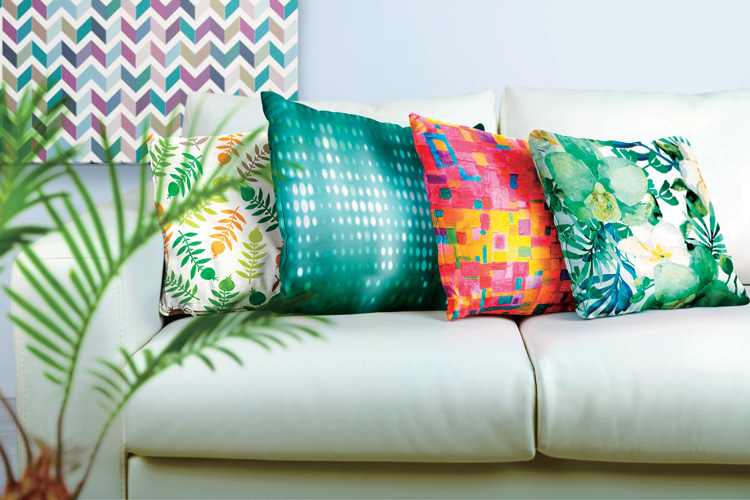 Dye sublimated pillows for custom home applications — there has been market trend towards custom décor items to beautify interiors as people spend more time at home.
Unique Revenue Opportunities for Every Sign and Graphics Provider
When it comes to new opportunities, both Daniel and Lily stressed that every shop and situation is different, and sign and graphics providers should be aware of what's happening on a more local level — identifying the immediate customer needs in the locale that are not being met. The sign industry has a history of adapting to changing times and the sudden demand for facemask products, outdoor signage, social distancing signs, and other previously niche products is an indication that graphics providers should be paying close attention to what's happening in their local areas and indeed, around the world. Now more than ever, bringing new ideas to your shop is important, as well as looking at what competitors are doing and talking to customers and colleagues to find new leads, ideas and revenue opportunities.