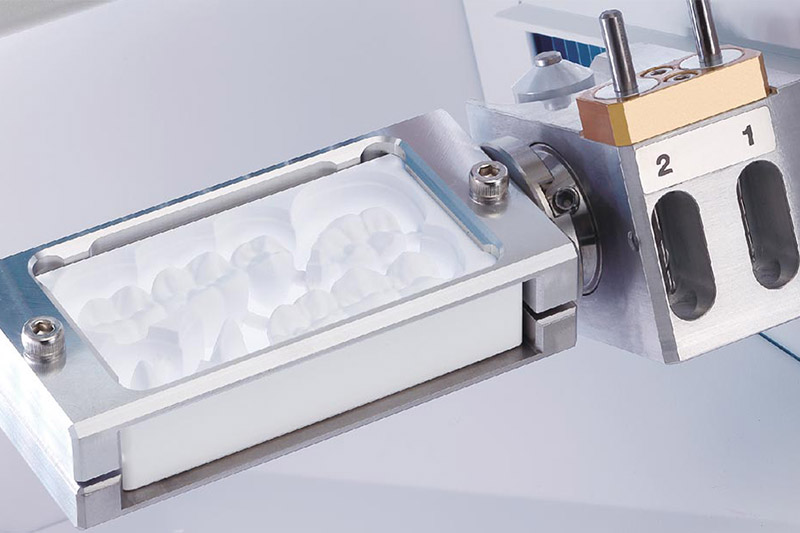 DWX-4 Dental Milling System Specifications
DWX-4 Milling Machine Specifications
Cuttable Material
Zirconia (pre-sintered), Wax, PMMA, Lava™ Ultimate Restorative, Vita Enamic
Loadablework - piece shape
Block
Width x Depth: 76×38, Height: 10 to 22 mm
PIN type
Width x Depth x Height: Maximum 85 x 40 x 22 mm
98mm Disc*
98mm Diameter
Operating speed
XYZ axis: 0.24 to 70.8 in./min. (6 to 1800 mm/min.)
Spindle motor
Brushless DC motor
Spindle speed
6,000 to 30,000 rpm
Rotary axis travel angle
A: ±360°
Number of tools housed
2
Attachable tool
Shank diameter: 4 mm, Length: 40 to 55 mm
Compatible compressed air
0.02 to 0.2 MPa
Interface
USB (compliant with Universal Serial Bus Specification Revision 1.1)
Control command set
RML-1, NC code
Power requirements
Voltage and frequency:
AC100 to 120 V/220 to 240 V ±10 %, 50/60 Hz

(overvoltage category II, IEC 60664-1)


Required power capacity:
2.0 A (100 to 120 V)/1.0 A (220 to 240 V)
Power consumption
Approx. 70 W
Operating noise
During operation:
70 dB (A) or less (when not cutting)
During standby:
40 dB (A) or less
External dimensions
Width x Depth x Height:
13.4×14.4×16.0 in.

(340×365×405 mm)
Weight
48.5 lbs (22 kg)
Installation Environment
Indoor Use, altitude:
up to 2000 m
Temperature:
41 to 104 °F (5 to 40 °C)
Relative humidity:
35 to 80 % (no condensation)
Ambient pollution degree:
2 (as specified by IEC 60664-1)
Short-Term Temporary Overvoltage:
1440 V
Long-Term Temporary Overvoltage:
490 V
Included items
Power cord, USB cable, Manual, Software Package CD-ROM, Detection pin, Automatic correction jig, Clamp for block workpiece, Hexagonal screwdriver, spanner, Tool holder, Tool positioner, Dust collection hose, Regulator, etc.
*Millbox 2017 onwards required. See Dealer for Further information