Conect
Dealer Profile: Conect/Print n Cut
Established in 1987, Conect Enterprises is a nation-wide family owned and operated business that started out as a Tape supplier and went on to become recognised as a market leader in the signage and print industry. In 2014, Conect acquired Print N Cut solutions in NSW and currently employs over 40 team members, stocking some of the best-known brands in the industry.

As a signage wholesale company, Conect supplies self-adhesive vinyl, vehicle wraps, heat transfer vinyl, printers, cutters, inks, and more to the signage market, striving to always offer great customer service, fast delivery and superior product knowledge. The team at Conect commented that they love "helping start-up businesses and believe[s] there's importance in educating in products, use of products, machinery, and all things we offer."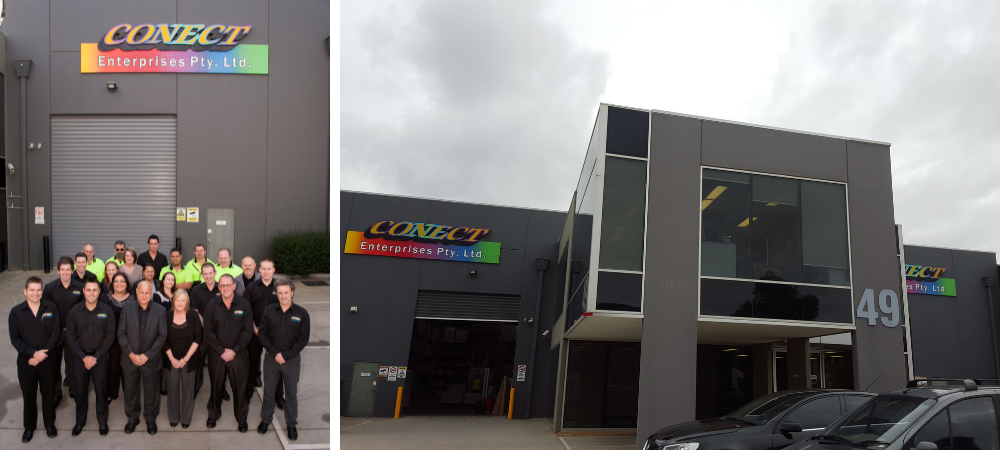 Working with Roland DG
Conect has been a Roland DG Authorised Dealer for approximately 18 years, with the two companies forging a great partnership, participating in many workshops, road show and training events, over the years. The team believes some of the highlights of the partnership with Roland DG has been the company's achievements, something that has seen Conect "rewarded with over 10 partnership awards".
The team at Conect like to offer a variety of technology solutions to their customers, and with "such a diverse range" of Roland DG machinery, "there's something to suit every one of our customer's needs."
Industry Outlook
In looking ahead to growth areas in the industry, Mike Callander, Hardware Sales Manager at Conect, has seen a demand in the label market, wall graphics and heat transfer market grow substantially in recent times: "The applications that continue to trend amongst our customers are wall graphics and Heat Transfer. We're currently seeing a shift towards the label market too, which will be very exciting to watch."
Conect has experienced an increase in their network of craft distributors, as the home craft segment continues to grow, with many people working from home and building up their own home businesses.
The "colour gamut/output is amazing and so vibrant, [customers are] always surprised at how easy the training is… they appreciate the great support they have access to through our great relationship with Roland DG."
Feedback on Roland DG's Products

The most common feedback Mike receives from Conect's customers about Roland DG's products, is around ease-of-use, quality of output and support. The "colour gamut/output is amazing and so vibrant, [customers are] always surprised at how easy the training is… they appreciate the great support they have access to through our great relationship with Roland DG."
To find out more about Conect, go to:
https://www.conect.net.au/