Roland DG Helps "King of the Wrap World" Achieve Top Results
Exotic Graphix
Offering a unique, creative and customised service, Melbourne's Exotic Graphix has made a name for itself in the custom and graphic design industry in Australia, with vinyl wrapping the company's area of expertise.
The team, headed by Nick Caminiti, is made up of 11 employees and recently edged out 223 competitors to win Avery Dennison's global "Wrap Like a King Challenge" 2016. To enter the competition, Nick and his team wrapped a custom-built 1930 Ford Tudor dubbed "Toxic Rat". The entire exterior, interior and even the firewall at the back of the engine bay was wrapped in a Hot Rod paint theme with multiple patterns and even a custom airbrush piece that was scanned and printed. "Pretty much anywhere paint can go, vinyl has gone," says Nick. "If you're not in the industry, you'd swear it was paint." (Click on the YouTube link below to view the winning video).
Exotic Graphix has a number of machines that are used to print and cut their artwork. The printer that was used to produce the winning wrap was a Roland DG XR-640 due to the quality of its output. Nick explains: "The Roland [DG printer] gave us the opportunity to print on the Avery DOL1460 laminate to achieve the look we were after… our Latex [printer] couldn't achieve this!"
"Our high end jobs always get printed on the Roland DG printer"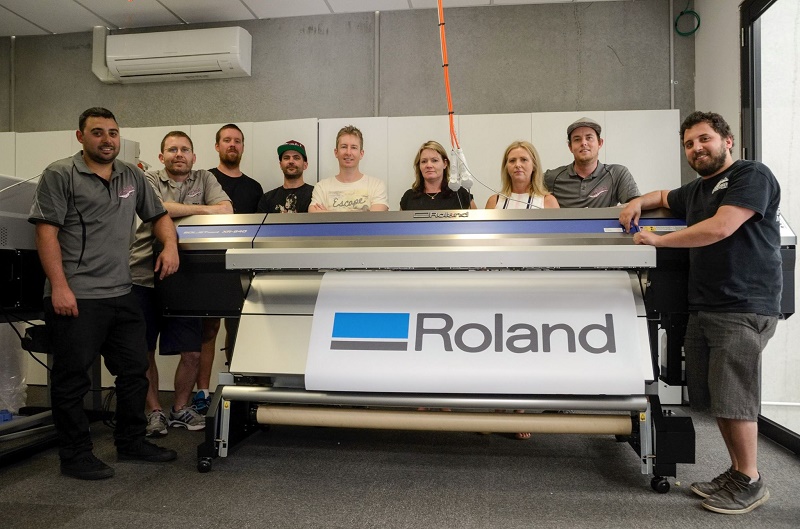 Nick has been working with Roland DG machines for many years, and wouldn't have it any other way. "We have had a Roland DG always in our fleet of printers and wouldn't change that – it's a great machine that does its job very well." When asked if he would recommend his Roland DG device, Nick doesn't hesitate: "Yes certainly. Its print quality is amazing and [so is its] consistency."