Signature Clothing Expands Business with the Help of Roland Rental Plus
Sydney, Australia, 30 July, 2019 – Roland DG Australia, a leading manufacturer of wide format inkjet printers and 3D devices, has released a new instalment in its Roland DG User video series. The latest video features successful clothing solutions business, Signature Clothing Pty Ltd, detailing their experience with a Roland DG TrueVIS SG-300 printer cutter financed through Roland Rental Plus.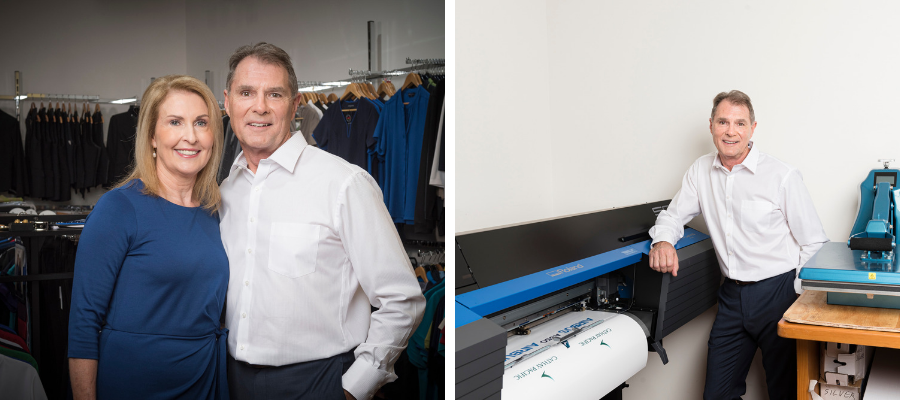 For over 30 years, Managing Directors of Signature Clothing, Denise and Arn Betteridge, have been running their family-owned embroidery business in the NSW Hunter Valley. A passion for creating tailored corporate and promotional clothing solutions has seen their business grow from humble beginnings in domestic embroidery, to recently purchasing a TrueVIS SG-300 printer cutter. Of the printer cutter, Arn said: "What we really like about Roland DG is the quality of the print, the fact that it's a very reliable machine and with the VersaWorks software it just integrates perfectly."

Arn and Denise chose to manage the finance for their printer cutter through Roland Rental Plus, the latest offering from Roland DG's dedicated finance program, Roland Rental. With no upfront investment and fixed price scheduled servicing bundled into the one monthly repayment, Arn believes Roland Rental Plus has made purchasing their equipment and maintaining it, so simple: "For one monthly payment we get not only the machine and what it's capable of, but we [also] get 6 monthly scheduled servicing."

Along with the quality and reliability from the Roland DG TrueVIS SG-300, finance through Roland Rental Plus has helped Arn and Denise become more productive and efficient so that they can focus on growing their business and doing what they do best. "After 30 years in business we can tell you there is a lot of challenges to face and financing shouldn't be one of them," says Arn. "Our experience with Roland Rental Plus has given us peace of mind. We can rest easy and I can't recommend them thoroughly enough."

To read the full user story and view the video, go to the User Story in the Case Study section of our website.