Roland DG Announces Powerful New CAMM-1 Professional Vinyl Cutters
Sydney, Australia, March 7, 2017 – Roland DG Corporation, a leading manufacturer of wide format inkjet printers, printer cutters and vinyl cutters worldwide, today announced the launch of the GR-640/540/420 professional vinyl cutters, the latest additions to its CAMM-1 series.

According to Greg Stone, Roland DG Australia Product & Marketing Manager, the GR series has been completely redesigned from the ground up to deliver best-in-class cutting quality and productivity due to increased accuracy, speed, media versatility and additional state-of-the-art cutting features. The new ergonomic L-shaped design of the integrated stand and machine provides the stability required to ensure precision cutting even at high speed. The redesigned cutting carriage, blade holder and other core mechanisms enable the machines to achieve a maximum cutting speed of 1,485 mm/s and up to 600 gf of downforce for cutting through dense media with a single pass. Models are available in 64", 54" and 42" cutting widths to allow users to pair them with the inkjet printers they are currently using.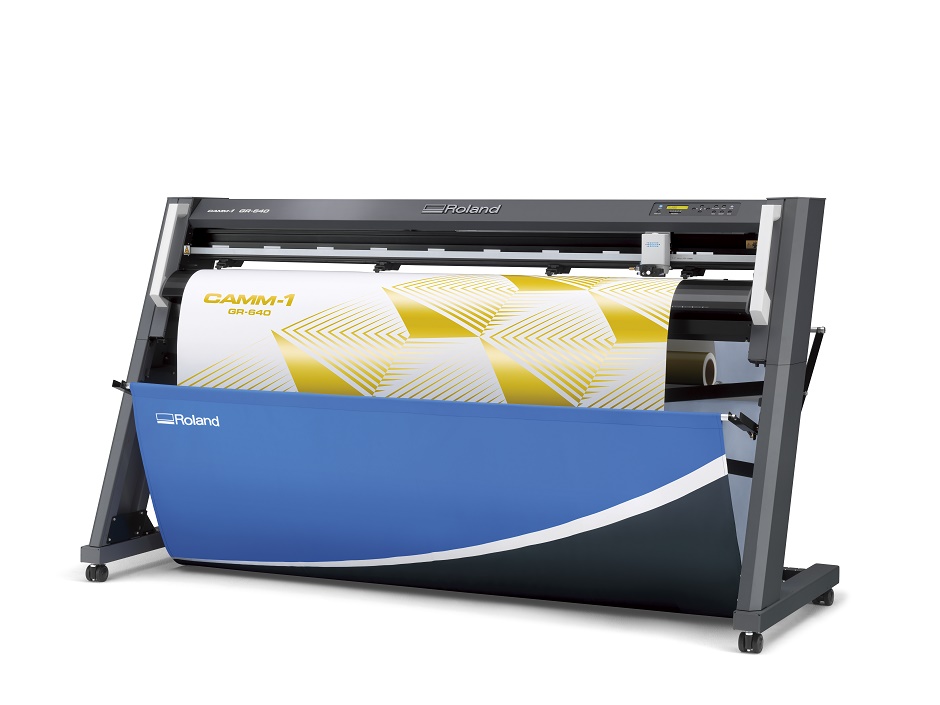 Stone said, "The cutting industry has become increasingly diverse. In addition to sign making, cutting now includes the production of window and vehicle graphics, window tinting and car protection film for automotive restyling, personalised apparel, labels and decals, packaging prototypes, paint/sandblast stencils and more. The breadth of applications demands the ability to handle a wide range of materials of varying thicknesses, such as window films, high intensity reflective materials, heat transfer materials including flock and glitter, cardboard, and sandblast mask."

To meet the variety of applications and materials required by today's cutting industry, the GR series is equipped with electronic pinch rollers that can adjust the pressure to 10 pre-set levels at the touch of a button for smooth feeding of any media thickness. The overlap cutting function allows for up to ten times overlap cutting for difficult-to-cut substrates. The tangential emulation function delivers precise corner cutting quality for cutting sharp letters in thick materials.

A host of innovations make the GR series extremely easy to use. The cutters are capable of reading crop marks on pre-printed data to accurately align graphics. The bundled Roland DG's CutStudio features a perforating cutting function that is convenient for making pop-out stickers and decals, and a cut-by-colour function that is useful when outputting designs with multiple coloured sheets. A new function automatically creates weed lines for more efficient weeding after designs have been cut. Roland DG's CutStudio includes plug-in software that allows outputting from Adobe® Illustrator® and CorelDRAW®. A media basket is now provided to collect cut sheets.

"Since 1988," Stone said, "Roland DG has sold more than 440,000 vinyl cutters. The GR series has been developed with the aim of delivering class-leading cutting quality and productivity based on all the technological achievements our company previously established while adding an entirely fresh layer of innovation. I am positive that the GR series will boost the quality and efficiency of customer work, and provide ample capability for expanding their business opportunities. Roland DG will continue to hone its expertise with cutting applications and provide customers with products that deliver unparalleled value to a broad range of industries."