Roland DG's next-generation TrueVIS printers and printer cutters have highlighted a useful feature that's available in VersaWorks 6. The latest TrueVIS VF2-640 printer boasts new Green and Orange ink that allows for an expanded colour gamut, but did you know that any Roland DG printer running VersaWorks 6 can benefit from this enhancement?
Colour Management Using ICC Profiles
For input/output devices such as printers, the range of colours that can be reproduced differs for each device. For this reason, colour management using ICC profiles is used to manage the output results between various devices.

VersaWorks 6 performs print processing by colour management using ICC profiles, and has colour setting presets with multiple combinations of profiles that can be used by all Roland DG printers.
True Rich Color Preset Yields the Best Output in VersaWorks 6
Some of the presets within VersaWorks 6 include "Japan Standard" and "US WEB Coated (SWOP)" that express colours in a colour gamut that assumes standard CMYK 4-colour offset printing respectively in the Japan and North American printing industry. "Max Impact" expands the colour gamut and enhances vividness, but may sacrifice a natural colour balance.

"True Rich Color" has a wider colour gamut that is closer to RGB, and combines vividness with natural and rich expression at the same time. The use of this wide gamut profile opens up new colours unachievable by many of the current profiles available, making the True Rich Color preset the best option for many applications.
How to Select True Rich Color Preset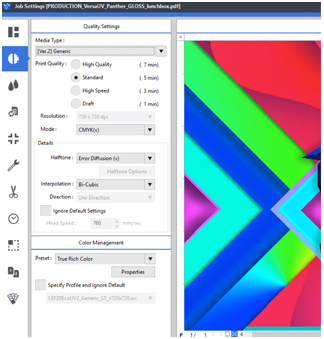 Step 1: Select "Color Management" from the job settings, and "True Rich Color" from the drop down menu.

Step 2: In "Properties" you can customise the combination of the input profiles and the matching method, the embedding profile priority and the pure colour settings. These settings can be customised based on the purpose of your print job.
VersaWorks 6 Free Upgrade Available
To find out more about the VersaWorks 6 and the "True Rich Color" preset, click here. The latest version of VersaWorks 6 is now available as a free upgrade for compatible Roland DG devices. To find out more and to upgrade, click here.