In the year of 2020, signs are everywhere. From retailers, corporate office spaces, restaurants and schools, signs such as decals, wall and window signs and floor graphics, are becoming increasingly important to convey the COVID-19 safety, health and hygiene message.

One signage application that you will notice has gained in popularity, is floor graphics. Social distancing floor graphics have joined the already widely-used temporary or permanent placement of retail floor graphics that draw your attention to the latest special or promotion.
Types of Floor Graphics
When it comes to visual display, signage or décor, floor graphics might not be the first option that springs to mind. However, they have one unique advantage: the floor is a fairly unusual application, and often is the last place anyone expects to find graphics. The unique placement alone is enough to grab your viewers' attention and get your message across.

Now, most businesses across a range of industries need floor graphics to convey the social distancing message – direction of movement within a space and demonstrating where to stand or queue are commonplace. Floor graphics are vital to keep your staff and customers safe.


Here are some examples of where floor graphics are used in a more traditional sense:
Advertisers and Marketers: In a retail setting, most of the vertical space is occupied by products. In the kaleidoscope of brands and colours on the shelf, it's difficult to stand out, but against a pale linoleum floor, a bold and loud printed floor sticker will be hard to miss.
Public Facilities: Adding directional signage to public places like shopping centres, museums or even car parks can present its own challenges. For important things like fire escapes and cafes, the floor can sometimes be the best option if you want to guarantee that directional signage will be seen.
Artists and Designers: Whether it's a permanent design feature in a private residence or a temporary installation in a public space, the potential of the floor is seldom explored enough. Some pioneering designers have gone beyond tiles and floorboards and used custom printed graphics to make the floor the star of the show.
How to Make Floor Graphics

If you're looking for a professional finish on your floor graphics, then digital printing is your best option*. What you need to create floor graphics:
Floor Graphic Vinyl: The intended purpose of the floor sticker will dictate which vinyl works best for your graphics. You need to consider whether it's temporary or permanent, whether it's being applied to a rough or smooth surface and whether it will be placed indoors or outdoors. The top media manufacturers produce vinyl specifically designed for floor applications, so shop around and experiment until you find one you like.
Laminate: If you want to give your designs extra protection and secure business in areas that are subject to tight legislation, it's a must-have. These custom-designed laminate materials have a non-slip textured surface to improve grip. Again, the purpose will determine the best laminate for the job but make sure it has some non-slip certification. For short-term applications, it's also possible print directly onto textured, non-slip vinyl.
Ink: Eco solvent, UV and latex ink can all be used for floor graphics. In most cases, the protection of the laminate means that ink durability isn't a vital factor. However, if your print will be exposed to the elements and constant footfall, the ink will need to be tough enough to last.
Clients can be protective of their brands, so the colours in your floor graphics will need to be spot-on. You'll already know how good your equipment is at colour matching and if it doesn't make the cut, you're better off avoiding these jobs and protecting your reputation until you can upgrade to a wide format printer with better capabilities.

*You can also make floor graphics using coloured vinyl and a cutting plotter – treat as you would applying any cut vinyl graphics and laminate according to your local regulations.
Designing Floor Graphics
Although some floor graphics are designed to be viewed from above, for most applications, the intended viewer will be on the same floor as the graphic. People tend to view the floor from a different angle than they would a wall and this is an important consideration. You will need to design for the following two scenarios:

Viewer in motion: These graphics are designed for open spaces, corridors, aisles and other areas of transit. As they will be seen from a slight distance, the graphic will need to be elongated to compensate for the unusual viewing angle.
Viewer at rest: These graphics are often used as place markers, such as for social distancing in public buildings. From a design perspective, a pair-of-shoes motif is a great way to put the viewer right where you want them.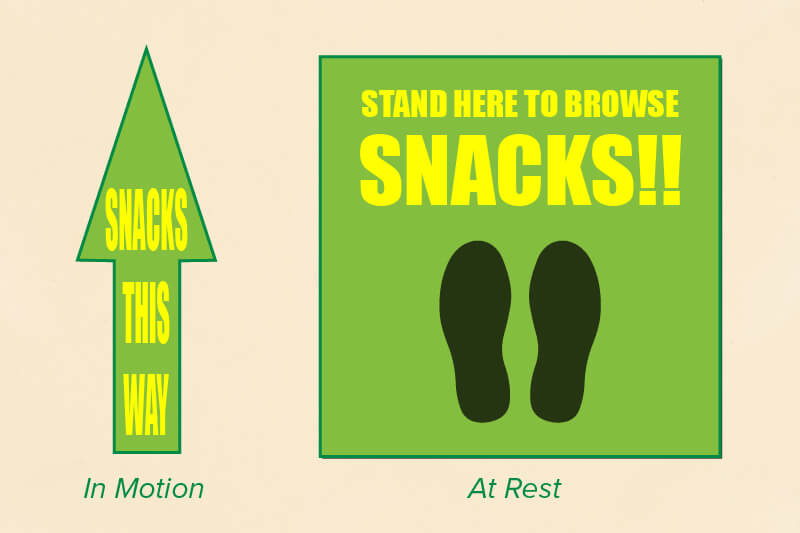 Because the design is crucial in an effective floor graphic, big brands will have teams of professionals working out the correct perspective and ideal placement. If this is within your design capabilities, make sure to offer it as a service and charge accordingly.
Installing Floor Graphics
Print the graphic on the appropriate vinyl, laminate and weed off any excess. For the best results, ask the client if regular cleaning and mopping can be suspended for 24-48 hours prior to applying the floor graphic – this reduces the chances of cleaning products interfering with the adhesive.

Like any installation in a public space, observe the usual health and safety procedures and conduct the appropriate risk assessments before you begin. Remove any dirt, dust and grease from the entire area and dry it thoroughly to ensure that your floor sticker can adhere firmly. Look out for cracks, bumps and inconsistencies in the surface. Large cracks will stop the vinyl adhering evenly resulting in peeling and warping (and dissatisfied customers). Premium floor vinyls are available with extra layers of adhesive perfect for uneven floors.

Using a squeegee, carefully apply the vinyl from one end avoiding any kinks or bubbles. Take particular care on uneven surfaces and adjust your technique to compensate for steps and ridges between tiles or floorboards.

IMPORTANT: Ensure your vinyl securely adheres, particularly around the edges. In extreme cases, unstuck edges can become a trip hazard.

If you're installing the graphic on a concrete pavement or outdoor area, a dry surface is just as important as it is indoors. It is best not to apply floor graphics in very cold or very hot weather as the frost and the heat can stop it adhering effectively. Finally, bear in mind that even the toughest vinyl won't withstand constant road traffic.

For uneven outdoor surfaces, particularly concrete, brick and asphalt, it's common to apply the vinyl with the aid of a heat gun, using foam rollers instead of a squeegee. This softens the vinyl, letting it mould around the contours of the surface.
Stand Out with Floor Graphics that Pop
So, there you have it – floor graphics are still unusual enough to get attention on their own, but with the right tools, some finely honed skills and a little imagination, you can create something that'll stop viewers in their tracks.
For more info on how to create floor and other graphics, download our FREE Guide to Print and Cut and Get Into Cutting Guide.