Roland Rental Payment Holiday Promotion
Sydney, Australia, July 20, 2018 – Roland DG Australia, a leading manufacturer of wide format inkjet printers and 3D devices, today announced a Roland Rental promotion to kick off the new financial year, where customers can get a hold of the latest equipment from Roland DG, and pay nothing for 3 months.

Roland DG's Roland Rental Holiday promotion runs between July 23rd and August 31st, 2018. During this time, if a customer finances a new piece of equipment through Roland Rental, they won't have to pay a cent for the first 3 months.* For greater choice and flexibility, Roland Rental now offers three unique packages that include hardware plus extra items such as ink and service costs. Take a look at this video for an overview of Roland Rental, Roland Rental Plus and Roland Rental Platinum: https://youtu.be/ZI0NLFUxlCE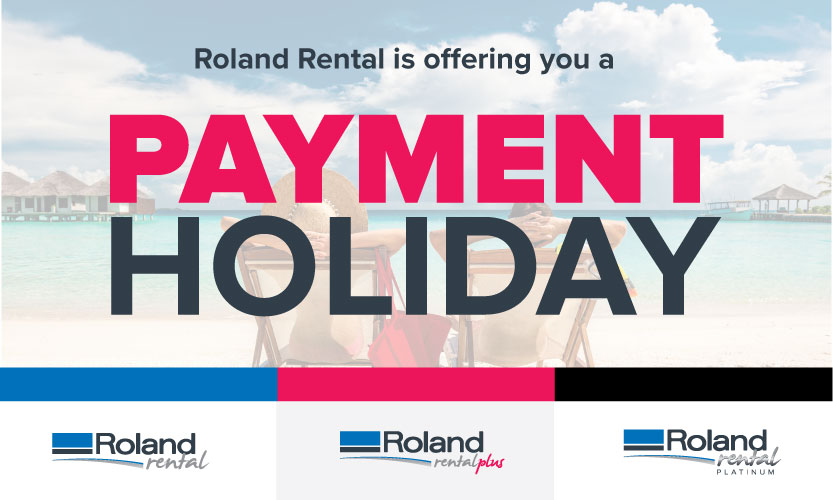 Since 2007, Roland Rental, managed by the team at Ecolease, has helped more than 1,100 businesses acquire over $26 million worth of Roland DG equipment. Since the Global Financial Crisis, as lenders clamped down and tougher regulations were imposed on businesses wanting to access finance, Roland Rental continued to help their customers succeed. Their approval system is hassle-free, and a focus on customer service remains paramount. Valery and Brian Brown from Macarthur Signs and Graphics, who recently financed a VG-640 through Roland Rental, found the overall experience easy: "We cannot fault the ease of getting finance through Ecolease/Roland Rental… The staff are always easy to deal with and prompt… They are the best service provider we have used!"

Many customers are up to their 3rd or 4th Roland Rental contract, which has helped them increase their production capacity, and enabled them to upgrade to the latest technology. Andrew Bannerman of Kwik Kopy Chatswood, has financed 3 machines with Roland Rental: "It was easy, it was pleasant, got the right advice, went through quickly so when an offer came through for the next two machines it was a no brainer."

Over the years, Roland Rental has worked hard to make the rental process as simple as possible, whilst delivering the great customer service that they are renowned for. With interest rates in Australia the lowest they've ever been, there's never been a better time to finance your Roland DG equipment.

For more information on the Holiday Promotion, download the promotion flyer, call 1800 500 119 or email sales@rolanddg.com.au. Read the full Roland Rental Story on our blog. To find out how Roland Rental can help your business, go to: www.rolanddg.com.au/rental or call the Ecolease team on 1300 322 092.
* Usual Credit Criteria applies. Offer consists of three monthly repayments at $nil followed by either 21, 33, 45 or 57 monthly repayments (and one additional repayment to own the goods at end of term).
Valid for transactions approved and settled between July 23rd and August 31st, 2018.
Ask your Roland DG representative or the friendly Ecolease team for your deferred payment quotes.