Roland DG Raises the Bar for Versatile, On Demand Output with New VersaUV LEC2-300 Printer Cutter
Hamamatsu, Japan, September 25, 2019 - Roland DG Corporation, a leading manufacturer of wide format inkjet printers and printer cutters, today announced the launch of the VersaUV LEC2-300 30" UV printer cutter.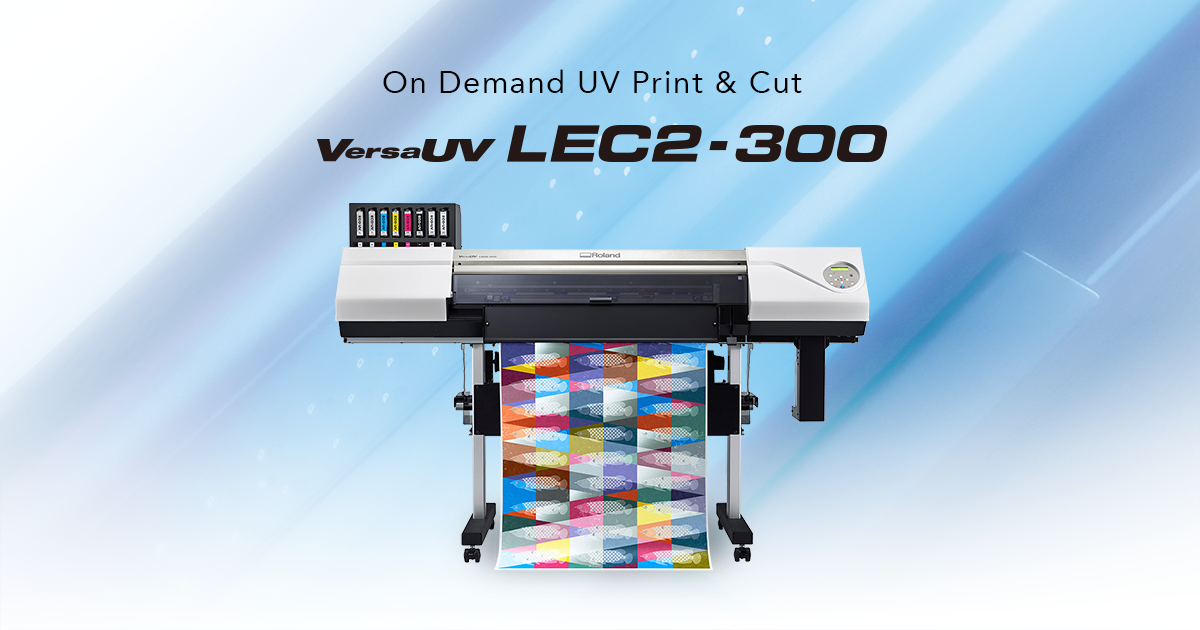 Kohei Tanabe, President of the Roland DG Digital Printing Business Division, states that the LEC series printers are capable of creating unique special effects using UV ink and contour cutting printed images on demand. "Since they were introduced in 2008," he said, "the LEC series has been used by a broad range of printing businesses for countless applications, including printing adhesive decals, labels and stickers, novelty merchandise, and design prototypes. The newly released LEC2-300 builds on the best features of the series, while making it both easy and economical to produce high-value added prints in quantities as few as one. As the newest model in the series, it also comes packed with features, including a newly developed print head and LED lamps, and a host of updated functions for an even higher level of print quality in a compact and stylish design."

The LEC2-300's UV ink adheres to the surface of a diverse range of media, from adhesive sheets for stickers and labels to PET or PVC-based substrates, and even textiles, Japanese paper, canvas or tarpaulin, leather and more. In addition to CMYK ink, the LEC2-300 can be used with Clear and White ink configurations for exceptional, premium-value printing, including full-colour prints with matte or glossy finishes, simulated embossing and other custom-textured effects.

The contour cutting function has been further enhanced to cut out printed graphics to any shape with exceptional precision. The automated process eliminates the need for plate making and die punching for trimming adhesive decals, labels and stickers. A Perf-Cut function allows you to print out as many labels as required and then peel and apply as needed. Combined with the new Multiple Print function and a new precision media take-up system, high-volume lots can be printed efficiently without attended operation.

The newly developed print head and LED lamps now deliver exceptionally rich and vibrant print quality. The new print head has been optimised for precise ink delivery and control, while the new LED lamps are more powerful to make curing the ink even faster. This combination delivers stunning print finishes down to the finest level, from small text to elaborately textured patterns and gradations. White ink density has increased by up to 40% compared to the previous model, to provide much higher opacity and coverage.

"In so many industries, we are seeing the needs of consumers becoming more diverse and individualised," Kohei said. "The ability to create unique items with a superb sense of exclusivity at the right time is essential for customers involved in the printing business to keep ahead of the competition. We developed the LEC2-300 to provide our customers with the power to quickly produce creative designs in as many formats and methods as possible. With this new printer, we hope to contribute to further growth and development of the printing industry."
For more information, go to the LEC2-300 product page.