Roland DG Launches Affordable BN-20A Desktop Printer Cutter for a New Era of Work Styles
Hamamatsu, Japan, October 12, 2021 - Roland DG Corporation, a leading manufacturer of wide format inkjet printers and printer cutters, today announced the launch of the BN-20A, a new, lower-cost addition to its VersaSTUDIO series of desktop inkjet printer cutters.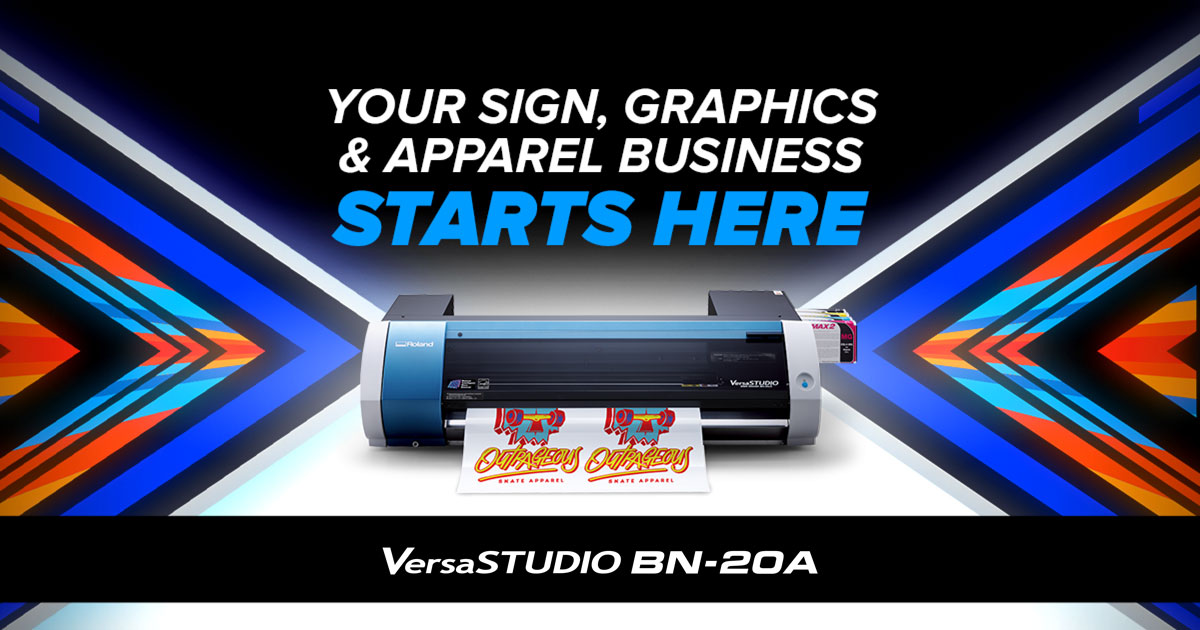 The VersaSTUDIO BN series is one of the most compact, easy-to-use, and affordable desktop inkjet printer cutters available for professional use. With over 18,000 units shipped since its launch in 2011, the BN-20 has proven popular among a wide range of users, from those starting a printing business to those producing and selling original goods from their home or stores. A combination of CMYK, metallic, and white inks, plus print and cut functions, enables the production of a wide variety of items, from custom T-shirts to A2-size posters and stickers.  

The latest model of the BN series, the BN-20A was designed to be more affordable by offering only CMYK ink colours while maintaining the high performance and ease of use of a professional business printer. The ECO-SOL MAX 2 ink can print on a wide range of media, including not only poster paper but also thermal transfers, PVC sheets and PET films. A True Rich Color preset has received high praise from advertising and sign professionals for its ability to produce vivid and accurate graphic expression. The BN-20A also features a print and cut function that allows you to automatically contour cut any shape around printed graphics, photos or text for stickers, labels, and uniquely shaped POP displays. In addition, it comes standard with output software that even beginners can use intuitively to easily produce high-quality printing from design data such as illustrations and photos. Compact enough to be placed on a desk and designed with safety in mind, it can be used in a home, office or retail location with complete peace of mind. It operates on a standard household power supply, so no special electrical work is required.   

Tony Miller, President, Global Sales and Marketing Division, said, "With the spread of digital technology, diversification of work styles, and the impact of COVID-19, there is a growing worldwide desire to start a business and work from home. At Roland DG, it is our mission to help people make the most of their individual skills and creativity. With its ability to easily create unique and attractive items, the BN-20A was designed to be the perfect business partner for people who enjoy designing, taking pictures, and making things. We will continue to expand our range of VersaSTUDIO desktop products to provide more people with the joy of creation." 
To find out more, click here.