Roland DG Introduces METAZA MPX-95 Photo Impact Printer
Sydney, Australia, November 2, 2016 – Roland DG Corporation, a leading manufacturer of digital fabrication tools including 3D milling machines, 3D printers and engraving machines, today announced the launch of a new photo impact printer, the METAZA MPX-95, and Gift Kit for the personalisation of metal items with photos, logos, names, messages and other decorations.

With its diamond stylus and powerful impact force, the MPX-95 can imprint on a wide variety of materials, including stainless steel, iron, titanium, platinum and softer substrates such as gold, silver, copper, nickel and aluminium at high speed and with pin-sharp accuracy. Possibilities include personalised pens and stationery, smart devices, industrial plates, jewellery and pendants, trophies and awards, watches and belt buckles.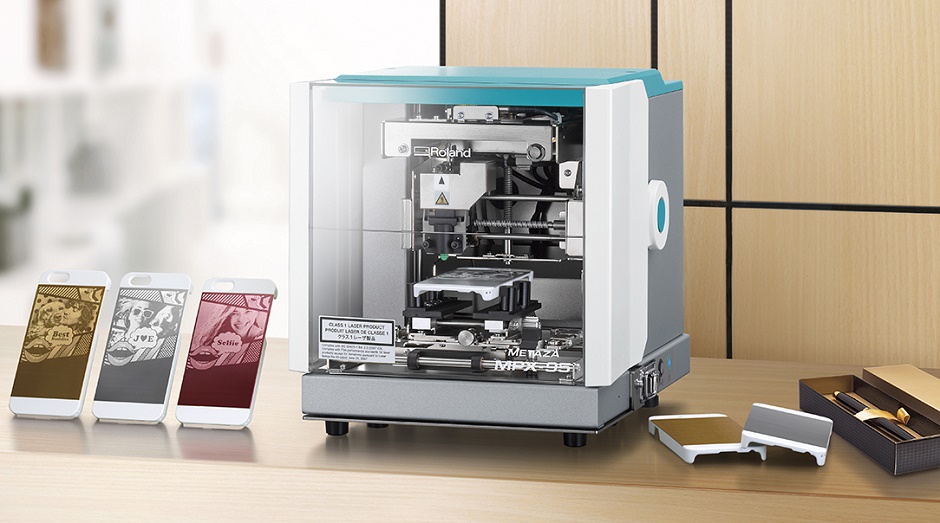 The MPX-95 and Gift Kit were developed especially as a compact solution for kiosks, gift shops, jewellery stores and other outlets selling products on-demand. Greg Stone, Product & Marketing Manager for Roland DG Australia said, "The popularity of customising possessions, wearing unique accessories that stand out, or giving personalised gifts on birthdays or anniversaries is growing. Our photo impact printers have a proven track record for creating stunning, detailed graphics, text and photographs, and are widely used by retailers. As they seek to expand their businesses, we received requests for a model capable of imprinting larger, irregular shaped items that would enable even novices to personalise items accurately. The MPX-95 with Gift Kit was developed to address this growing demand."

The MPX-95 employs a removable base table and plate allowing it to work with a greater range of items, and includes a laser pointer to assist in identifying the area to be marked. The Gift Kit includes both large and small clamp pins, a standard vice and a movable centre vice to hold items in place while they are being marked. The movable centre vice allows the position of the item to be fine-tuned by aligning it with the laser pointer after it has been clamped. The MPX-95 also comes standard with METAZA Studio software to complete the solution.