Roland DG Australia Announces Launch of New VersaUV LEC2 S-Series UV Flatbed Printers
Sydney, Australia, 7 July, 2022 – Roland DG Australia, a leading manufacturer of wide format inkjet printers and printer cutters, announced today the launch of the VersaUV LEC2 S-Series Flatbed Printers, designed to maximise direct-to-object printing options to deliver unsurpassed graphic results.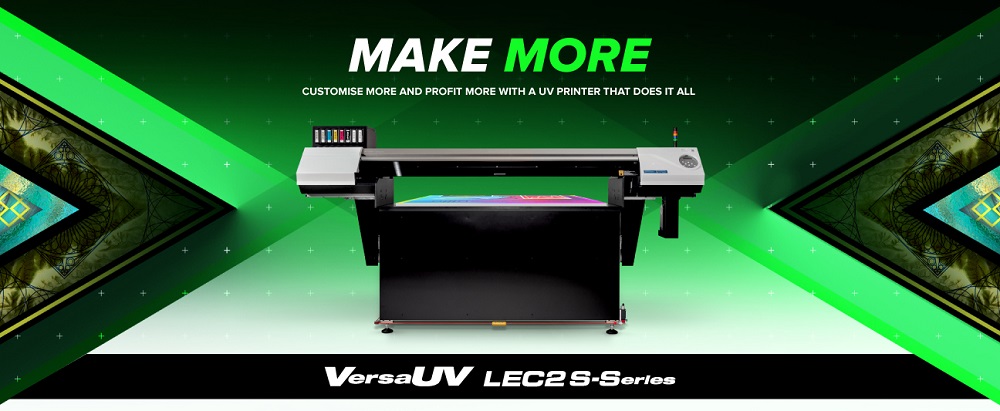 Available in two print widths, 64-inch (1625mm) and 30-inch (762mm), the LEC2 S-Series printers offer print providers and manufacturers the best of both worlds – direct to product customisation, plus direct printing on flexible and rigid materials that allows for an extensive range of merchandising, packaging, sign, and display application opportunities.

The LEC2 S-Series printers are ideal for users seeking an on-demand customisation printing solution that complements their current capabilities for increased productivity and profitability. They combine superb imaging with outstanding versatility and production, allowing users to quickly turn around traditional print jobs and customise a vast array of products and merchandise with vibrant, detailed graphics.

The LEC2 S-Series offers machine options that reflect the products and types of media users want to print on. In addition to the two width options, there are four different bed sizes to choose from to suit all business types. All LEC2 S-Series printers boast up to 200mm of height clearance and are sturdy enough to support up to 100kg. This makes the LEC2 S-Series unbeatable for a wide range of range of applications, including product personalisation, package prototyping and short runs, tradeshow and retail signage, POP displays, interior décor, and printing onto panels, sheets, tables and heavy boards.

"Our VersaUV LEC2 S-Series printers will appeal to sign makers, industrial printers, and packaging experts looking for expanded profit opportunities, reduced turnaround times, and cost savings," said Roland DG Australia's Product Manager and Marketing Manager, Greg Stone. "The versatility of configurations enables a range of exciting applications for increased profit margins and new business opportunities – both are critical to success in today's competitive print market."

Each LEC2 S-Series model is built to take full advantage of Roland DG's specially formulated, GREENGUARD Gold certified, wide gamut ECO-UV inks. Users can choose from eight different ink configurations to suit their specific quality, media and finishing needs, including dual CMYK for increased productivity, or CMYK with optional Red and Orange for increased colour-matching accuracy, and White, Gloss or Primer for stunning dimensional and textural effects and improved adhesion and media compatibility.

To find out more about the new VersaUV LEC2 S-Series UV flatbed printers, click here.