Roland DG Announces Free Upgrade for TrueVIS VG640 VG540 Users
Hamamatsu, Japan, September 17, 2019 – Roland DG Corporation, a leading manufacturer of wide format inkjet printers and printer cutters worldwide, announced today that owners of its TrueVIS VG-640/540 printer cutters can now upgrade their devices for free to the award-winning performance of the recently launched VG2-640/540 with new TrueVIS TR2 ink.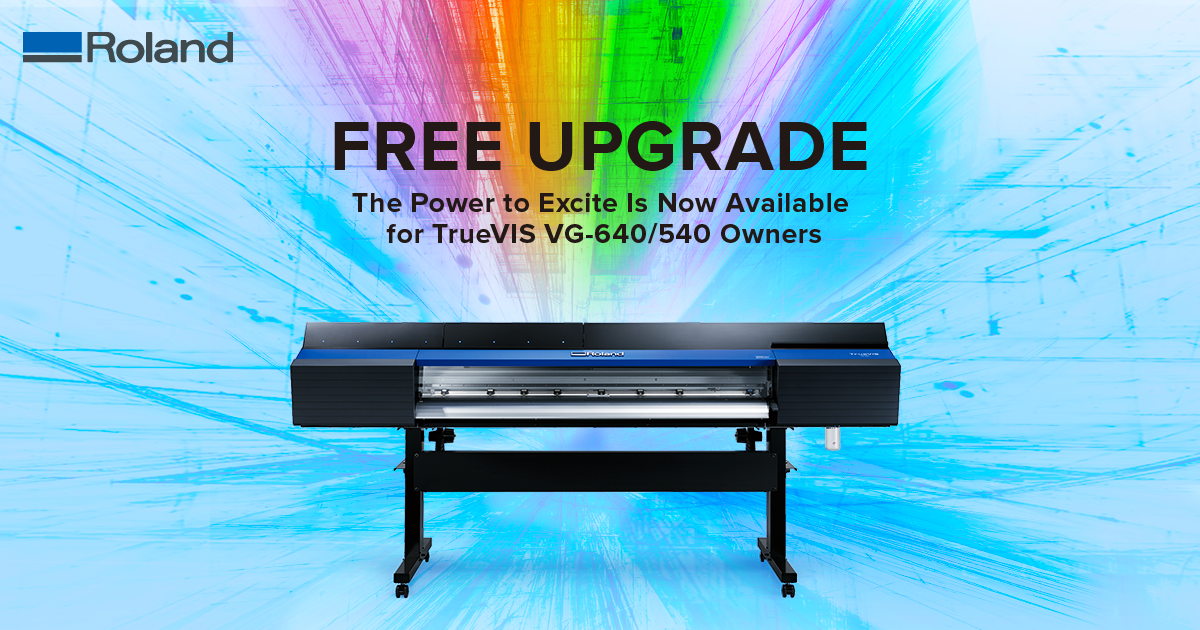 Ryo Baba, TrueVIS VG2 Project Manager for the Roland DG Digital Printing Business Division said, "As a major benefit to our existing VG-640/540 customers, we are offering a free upgrade program. Thanks to the newly developed TR2 ink*, that boasts a wide colour gamut, and a new "True Rich Colour" preset that maximises the potential of the VG-640/540 and the new ink capabilities, the upgraded VG-640/540 can now produce stunning graphics that excite both heart and mind."

Baba said the upgraded VG series with TR2 ink will help take the customer's business to the next level. The VG series with TR2 ink is certified for long-lasting results by the 3MTM MCSTM Warranty, providing clients with assurance of the quality and reliability of their graphics. The VG with new TR2 ink is also certified by the Avery Dennison ICS Performance Guarantee, that provides protection for up to 4 years for outdoor durability and up to 7 years for indoor durability. Avery has set the recommended outgassing time at just six hours, dramatically reducing the print and laminate timeframe.

With the free upgrade, VG owners obtain a host of new features to improve print & cut accuracy and usability. Crop mark options are added for cutting laminated printed materials to increase cutting stability. A newly added PerfCut mode lets you print, cut and die-cut in one seamless operation. In addition to the conventional Print & Cut function, the Cut & Print function allows you to cut first and then print later. This helps to reduce edge curls when dealing with thin media, such as heat transfer films for apparel decoration.

VG-640/540 users can enjoy the free upgrade of their devices by downloading the specified firmware and the latest version of VersaWorks 6 software RIP. To learn more, visit www.rolanddg.com.au/vgupgrade.

* VG does not support TR2 Orange ink. TR2 White ink is available in 250 ml.