Roland DG Announces First IU-1000F Large Format UV-LED Flatbed Printer with Breakthrough Performance
Sydney, Australia, June 30, 2020 – Roland DG Australia, a leading manufacturer of wide format inkjet printers and 3D devices worldwide, today announced that following on from its release in other markets around the world, the first IU-1000F large format UV-LED flatbed printer is now available in Australia. The device is designed to deliver unsurpassed performance, and meet the diverse needs of busy print service providers and commercial printers.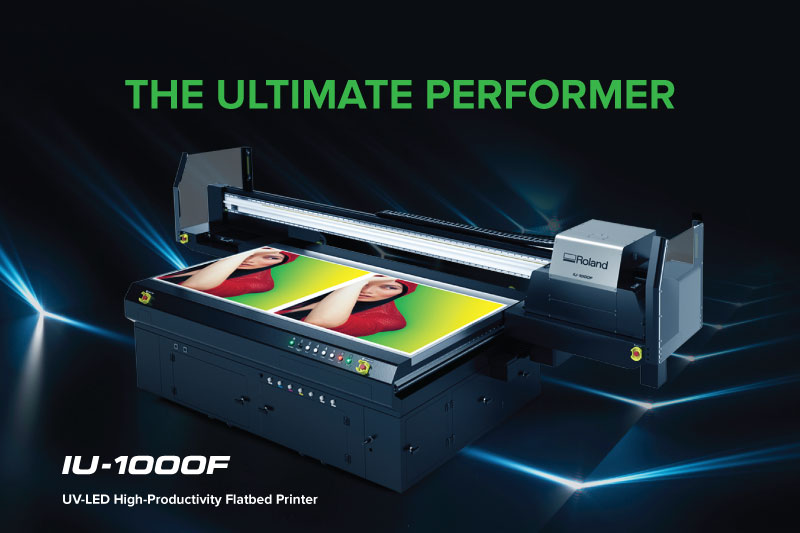 As turnaround times and requirements for communication tools such as outdoor and indoor advertising, event decorations, and store displays become shorter and more diverse, the sign and display industry are increasingly becoming one-stop shops offering quick response. Under such challenging circumstances, high performance large format UV flatbed printers that enable a more efficient production process and are capable of printing on various materials for a wide range of applications, are attracting greater attention than ever before.

According to Kohei Tanabe, the President of the DP Business Division, the IU-1000F boasts breakthrough speed and quality while also eliminating the need for mounting and drying processes. "It is a powerful solution for the sign and display or print production business that seeks more efficient and faster-turnaround production capability. By offering increased productivity, material compatibility, image quality, and ease of use, I am confident that the IU-1000F will achieve increased profitability for printing businesses," he said.

In addition to high-adhesion, high-density CMYK UV inks, this highly versatile large format device supports White, Gloss and Primer inks to create a wide variety of stunning applications, from impressive and highly-profitable signs, displays, backlits and exhibition graphics to custom-designed interior décor applications such as canvas wall panels and furniture.

Equipped with 12 high-performance printheads in a staggered 3-row arrangement, the IU-1000F can print up to 635 x 1,800dpi with variable droplet technology which can simultaneously fire 3 sizes of droplets at high speed. Printing time for a typical 1,220 x 2,440mm size rigid board averages approximately 15 boards per hour in "Standard" print mode for typical point of purchase display applications. For applications requiring higher image quality, the "Quality" print mode will produce approximately 10 sheets per hour.

The IU-1000F employs UV-LED flatbed printing technology to print directly on various materials and objects, including rigid boards up to 2,510 x 1,310mm size, 110mm in height and 45kg/sqm in weight. The exclusively-developed, high-density GREENGUARD Gold certified UV inks in CMYK, Gloss and White cure instantly and deliver stunning graphic results. A Primer ink* option allows for even greater adhesion, making it easy to prep and print on challenging materials like acrylic, glass and ceramic. Users can incorporate the Gloss and White speciality inks to enhance their prints with a host of eye-catching textural and dimensional effects.

"With the life cycles and requirements for outdoor and indoor advertising, event decorations and store displays being shorter and more diverse than ever, there's a growing need for the new IU-1000F," said Greg Stone, Roland DG Australia Product and Marketing Manager. "This cutting-edge, high-production UV flatbed enables shops to respond effectively to increasing output demands and shorter turn-around times. It offers breakthrough print speeds, exceptional image quality, and outstanding material compatibility, allowing for high-volume, high-impact graphics without the need for mounting and drying processes."

The IU-1000F has a number of new functions to optimise efficient performance, including an ionizer that removes static electricity, a versatile print bed that can handle materials of various sizes, from one large board to multiple small panels, and media alignment pins to easily align materials to be printed.

To find out more about the IU-1000F, go to our website.