Roland DG Academy Announces New Personalisation Course for Customers
Sydney, Australia, October 28, 2019 - Roland DG Australia, a leading manufacturer of wide format inkjet printers and 3D devices worldwide, today announced a new Roland DG Academy training course, Profit Through Personalisation, for new and existing customers looking to incorporate a personalisation solution into their business.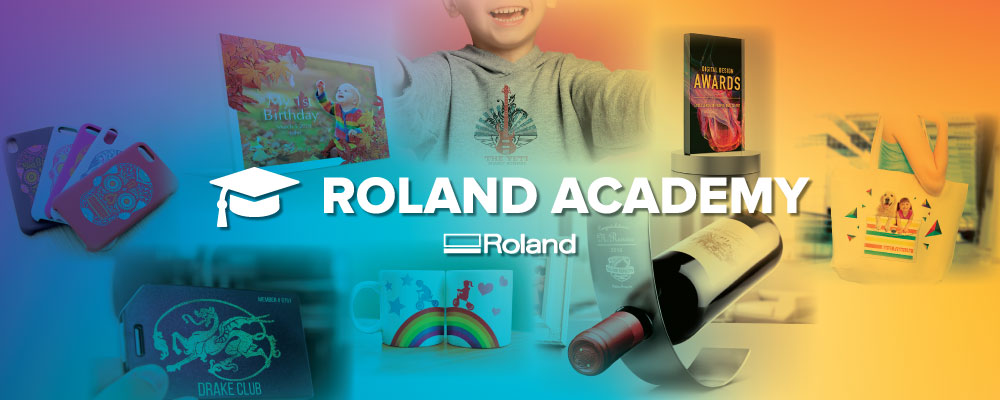 Profit Through Personalisation taps into the growing demand by customers for unique, custom and quality items that reflect their individual tastes and interests. The course presents an overview of personalisation and different technologies that can be used to help a business diversify their offering.

"There is huge potential for print and graphics providers to incorporate instant personalisation into their business", comments Greg Stone, Product and Marketing Manager at Roland DG Australia. "Not only will product personalisation help businesses stand out from the competition, but it can lead to an increase in customer loyalty and growth in profits."

The course is primarily hands-on, features demonstrations and practical group activities for each technology, and includes the creation of personalised samples using Roland DG equipment and materials. The main areas covered in Profit Through Personalisation are:
Personalisation introduction and technology overview
Benchtop UV printing
Direct-to-Garment printing and Heat Transfer
Dye sublimation
Impact Printing and Marking
Laser Foil Decoration
Profit Through Personalisation begins in Sydney on 27th November, with further dates and locations to be announced early next year. A special introductory price is on offer for the first full day Sydney course of just $90 inc GST (normal course fee $129 inc GST). With only 12 places available per class, spots will fill up fast.
To find out more or make a booking, go to www.rolanddg.com.au/academy, email training@rolanddg.com.au or call 1800 500 119.