New Roland DG TrueVIS VG2 Leads the Print and Cut Field with EDP Award
Sydney, Australia, May 21, 2019 - Roland DG is delighted to announce that the new TrueVIS VG2 series eco-solvent printer cutter has won 'Best Print & Cut Solution' in the prestigious EDP (European Digital Press Association) Awards. The TrueVIS VG2 was launched in March this year and drew large crowds on the Roland DG booth (Hall A5 Booth H10) at FESPA 2019 in Munich, Germany.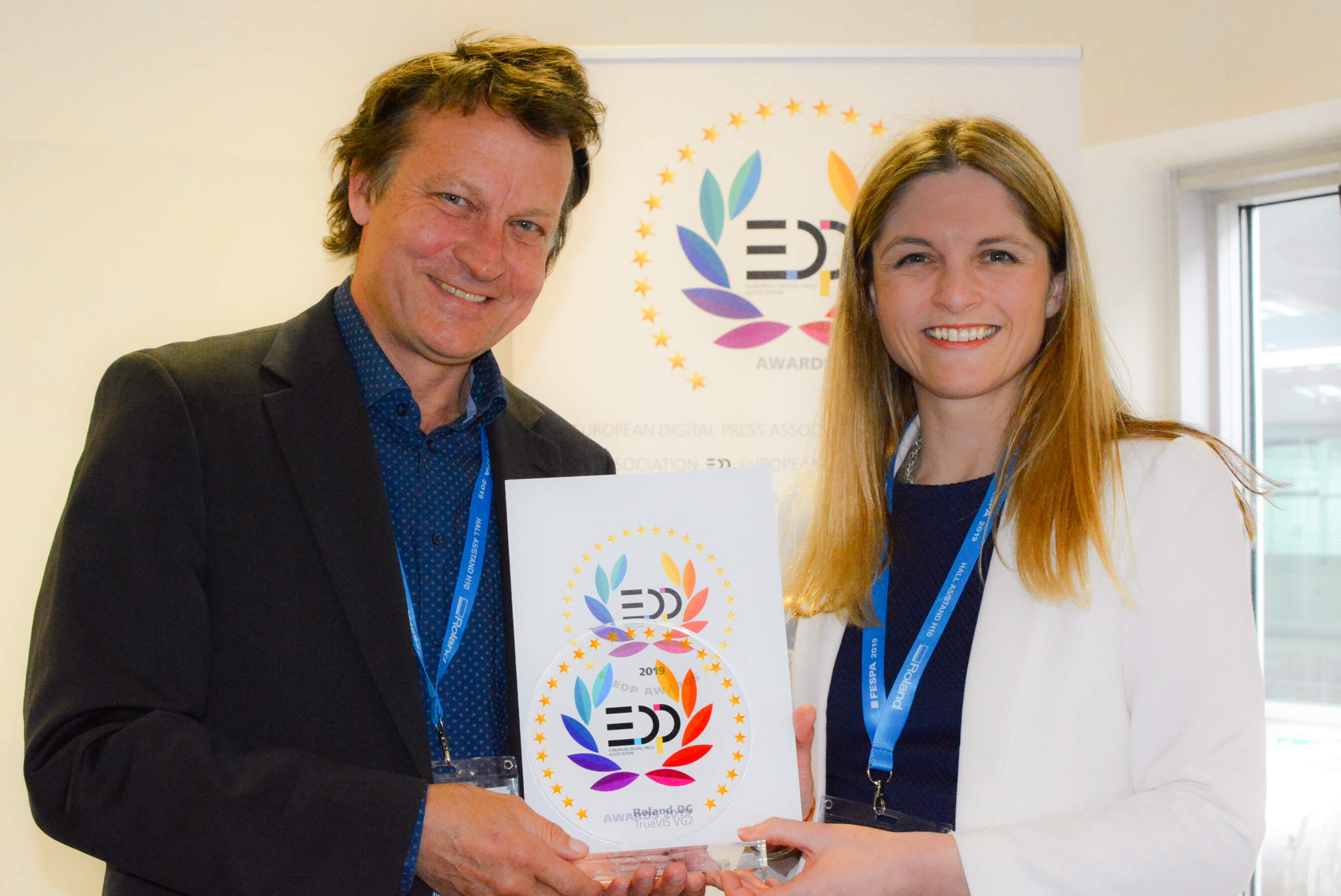 The winners of the EDP Awards are decided by an independent panel of judges from Europe's 21 leading trade publications, who evaluate the most exciting technical launches from the past twelve months based on their 'achievement, quality and cost efficiency'. When judging the Roland DG TrueVIS VG2, the panel said, 'Roland DG has not adhered to existing concepts, but has redefined product development'. The judges were particularly impressed by the system's breadth of colour gamut, optimised colour accuracy and colour reproduction capability, plus a host of technological advancements to deliver high-precision print and cut performance.

Building on Roland DG's 35 years of manufacturing expertise, 16 generations of print and cut innovation and feedback from thousands of experienced users across the world, the TrueVIS VG2 wide format inkjet printer cutter has been engineered to meet, then exceed, the quality and production needs of today's most demanding print professionals.

First, answering the need for faster turnaround times, the VG2's stunning quality prints are ready to laminate and then immediately finish in just six hours* for true same day installation. Setting the new standard in head-turning print quality, the TrueVIS VG2 offers new Orange ink that expands the colour gamut even further, delivers incredibly realistic colour reproduction and enables accurate matching of corporate brand colours. The new TrueVIS TR2 ink offers optimised colour reproduction and greater realism to printed images, plus outstanding performance in terms of stretch, adhesion, rub resistance and outdoor durability.

The VG2 solution is also certified by some of the industry's leading media suppliers: VG2 with TR2 ink is certified for long-lasting results under the 3MTM MCSTM Warranty. Plus, VG2 with TR2 ink is certified by the Avery DennisonTM ICSTM Performance Guarantee. TR2 ink is also certified GREENGUARD Gold for low chemical emissions and is safe for indoor graphic applications.

In addition, the VG2 is powered by feature-packed VersaWorks 6 RIP software that delivers an optimised workflow for efficient production. VersaWorks 6 fully supports PDF 2.0 and enables complex files to be processed directly in the RIP.

All this, plus more than 40 intelligent and intuitive enhancements over the previous award-winning generation and unwavering reliability, backed by Roland DG's industry-renowned service and support. "We're absolutely thrilled to have won the EDP Award for 'Best Print & Cut Solution' with the new TrueVIS VG2," comments Gillian Montanaro, Head of Marketing Roland DG EMEA. "When we launched the VG2 just a few months ago we were ready to show the industry something special, a solution that could genuinely change print professionals' working lives in terms of colour quality, turnaround speeds, reliability, longevity of their output and much more. The EDP Awards are widely regarded as the most prestigious awards for the digital print business in Europe so the title of 'Best Print & Cut Solution' absolutely reflects how incredible this machine is."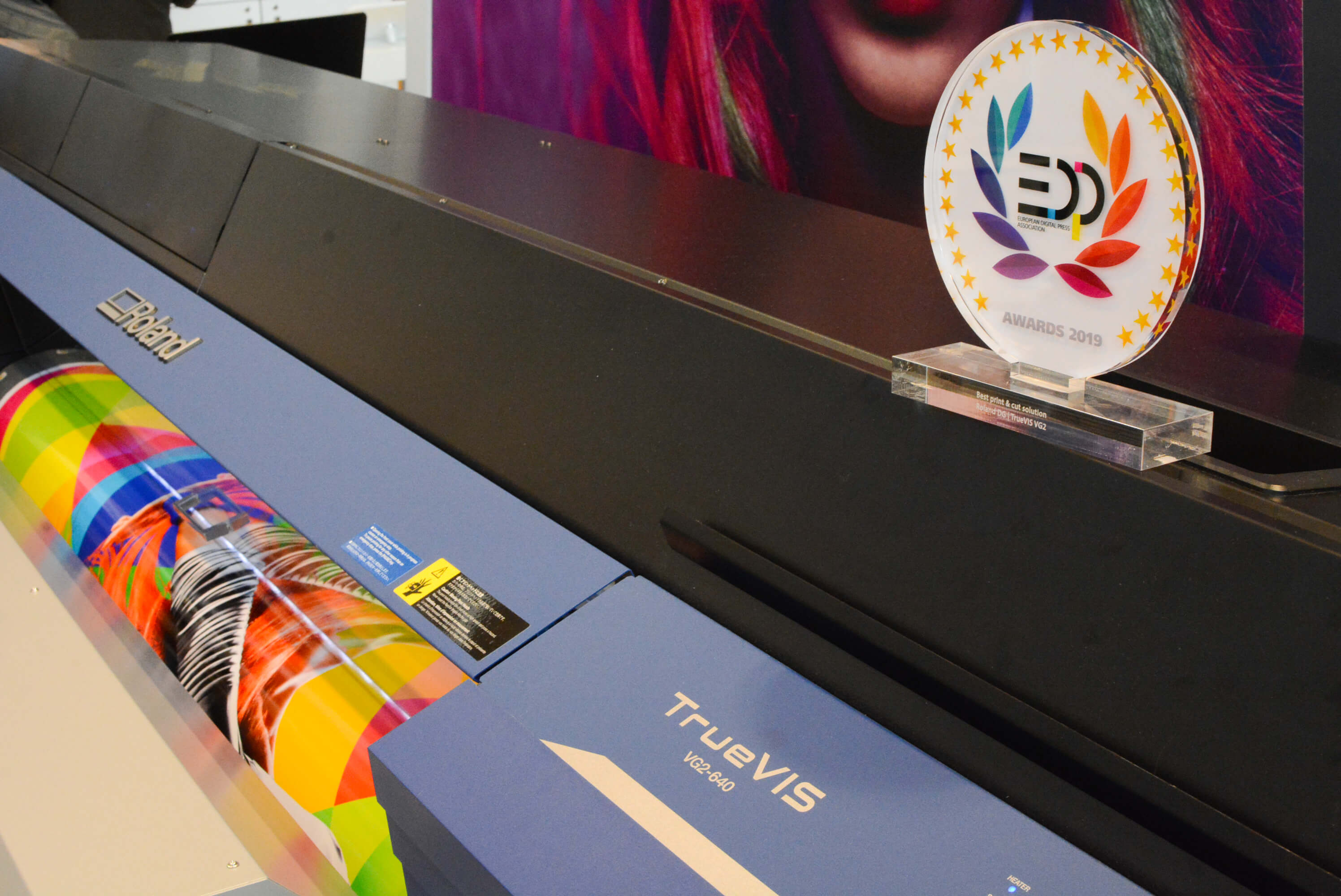 Despite only launching in March this year, the TrueVIS VG2's outstanding performance has already gained global industry recognition, having also been awarded the 2019 ISA Sign Expo® Innovation Award in the "Printer" category.

For further information on the award-winning TrueVIS VG2 series printer cutters, visit: www.rolanddg.com.au/vg2

* Tests performed by Avery Dennison on MPI Range digital media. When using this media, prints produced on VG2 with TR2 ink can be laminated after a 6-hour period when rolls or images are properly ventilated and loosely wound. For more detail see: https://graphics.averydennison.com/en/home/services/warranty.html. Regional differences may occur. Please check with your local agent.