DGSHAPE Releases Latest Generation Engraver to Expand its Decorating Line of Products
Hamamatsu, Japan, January 30, 2019 – DGSHAPE Corporation, a wholly-owned subsidiary of Roland DG Corporation and a leading provider of digital fabrication tools, including 3D milling machines, 3D printers, and engraving machines, announced today the launch of its latest decorating solution, the DE-3. DGSHAPE continues the legacy of Roland DG engraving with a new model that features laser-pointing technology, ethernet connectivity, automatic depth regulation, and other intelligent enhancements.

According to Hisashi Bito, President of DGSHAPE Corporation, "The DE-3 builds on the legacy of Roland DG engraving solutions that is advanced today by DGSHAPE Corporation and affirms DGSHAPE's commitment to providing reliable desktop solutions for the entrepreneur to build their business."

The DE-3 can produce a variety of engraving applications including industrial nameplates, signage, awards, and gift personalisation. This next generation engraver incorporates many new improvements including: Ethernet connectivity, updated nosecone technology for higher quality engraving on uneven material, data buffer for offline engraving, laser pointer for precise material alignment, and new bundled software: Dr. Engrave Plus. This new software has advanced features such as AI and EPS file support, levelling and drilling functions, and Variable Data Printing.

A cornerstone of all DGSHAPE machines, Bito said, is their ease of use. Operation is as simple as pressing a button. DGSHAPE prides itself on the concept of the "Open System." This open architecture offers the flexibility of using design software and tooling that engraving professionals are already familiar with. The DE-3 can be connected via USB or LAN which allows for increased flexibility in any environment. Dr. Engraving Plus is a design software that can create new artwork or take existing files from popular design software packages to output to the DE-3 for a true out-of-the-box solution.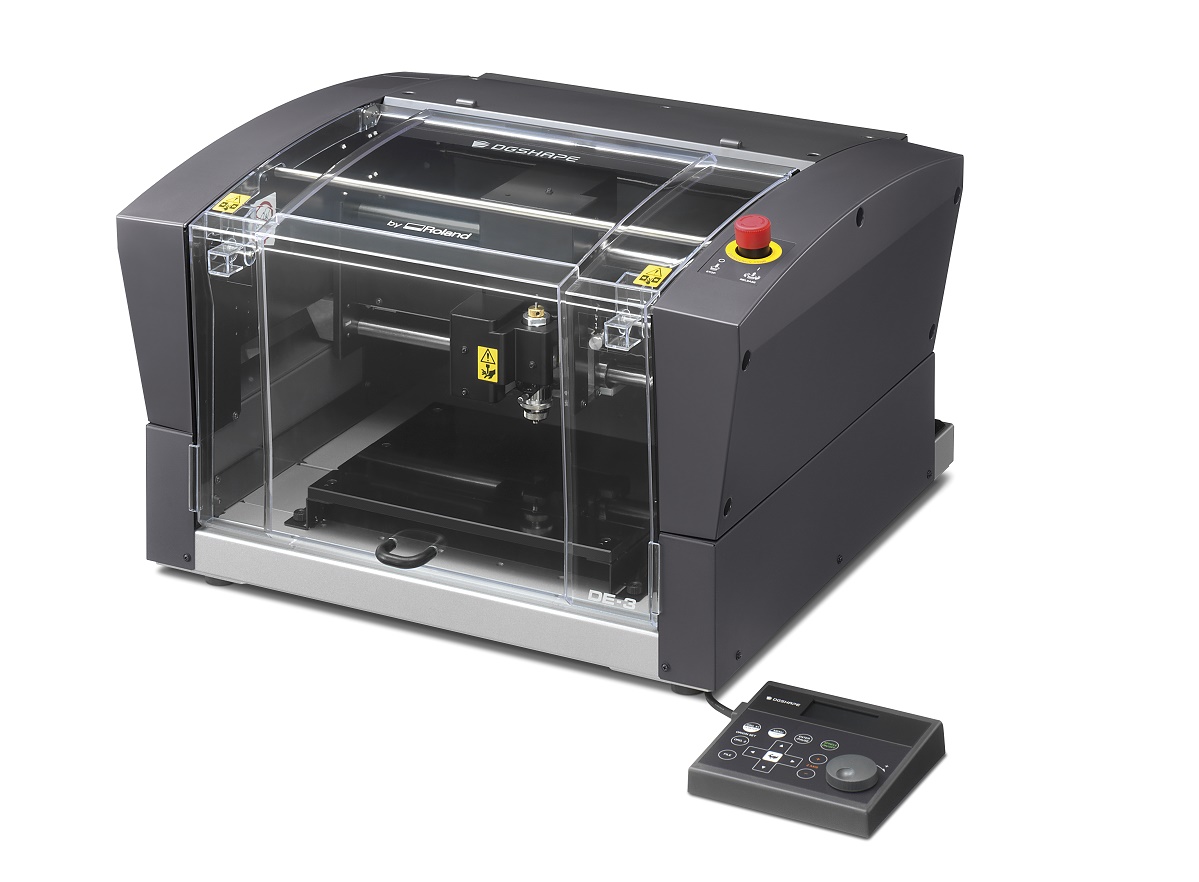 The DE-3 easily produces popular engraving applications in a variety of materials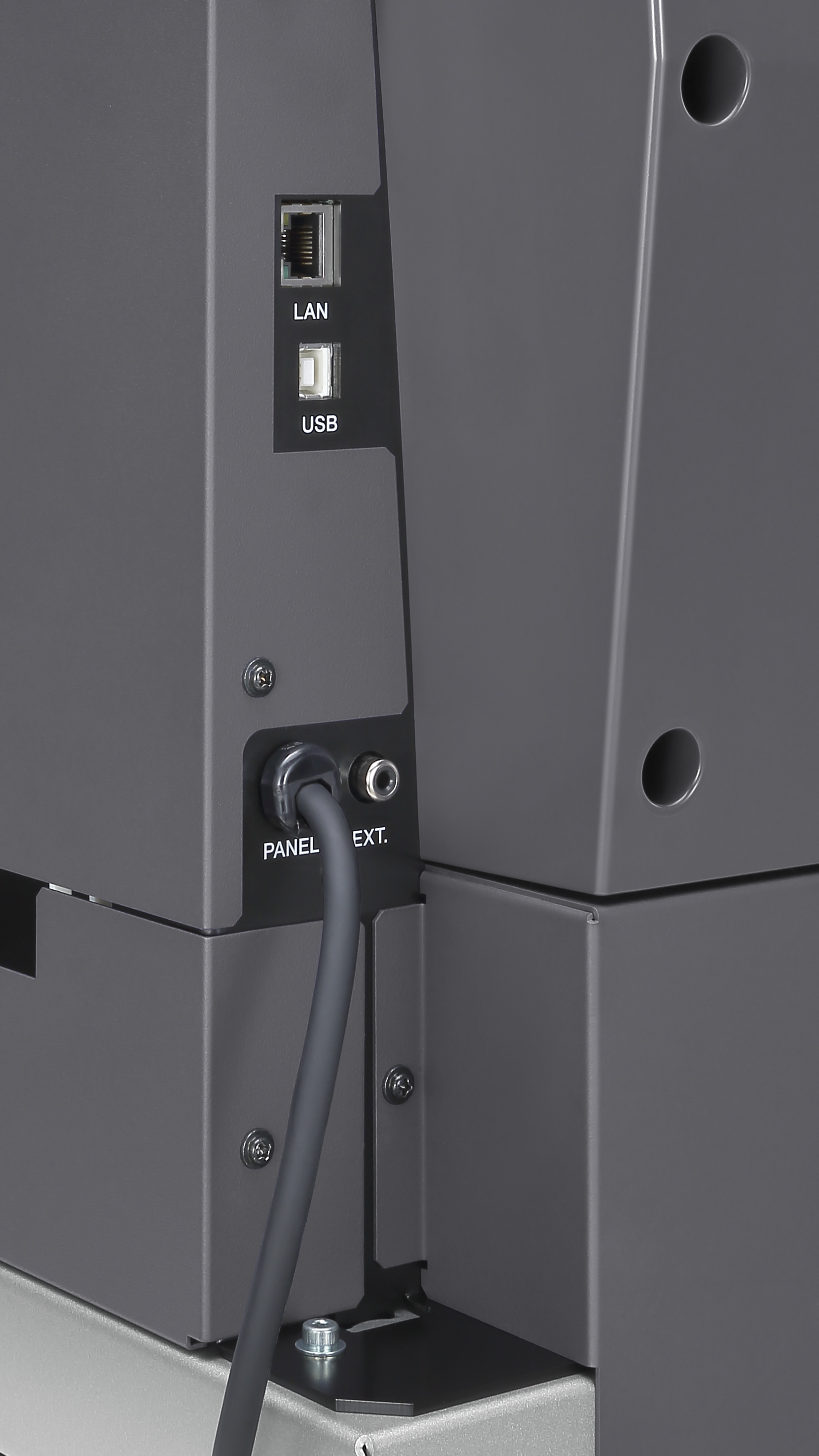 The DE-3 can be installed via USB or Ethernet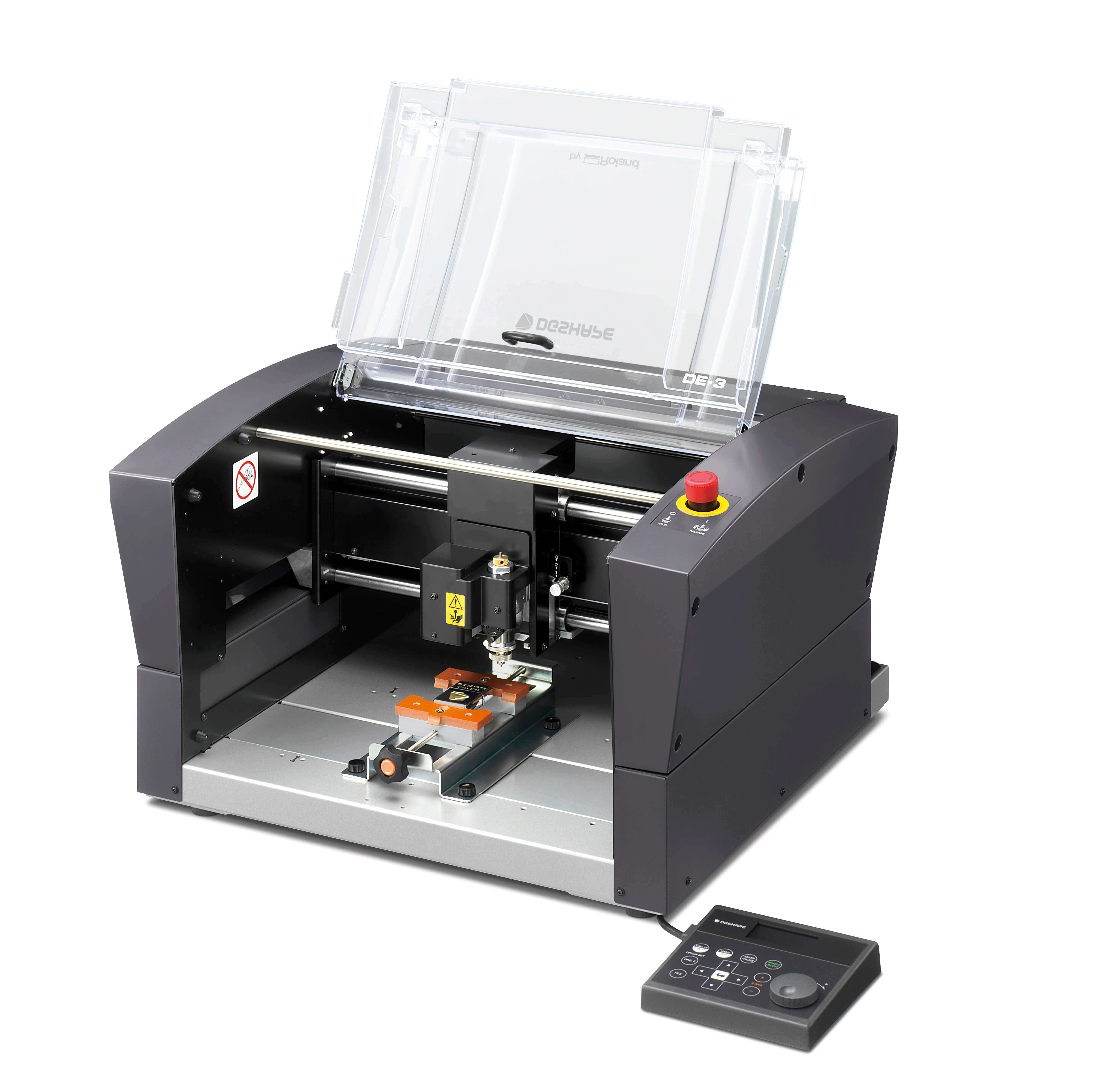 An optional centre vise increases the available materials that can be engraved
About DGSHAPE Corporation
DGSHAPE Corporation designs and manufactures hardware and software solutions for entrepreneurs who want to fulfill their dreams of creating something new to Shape the Future. We cater to multiple industries including: medical, manufacturing, and retail. We help innovators unlock their dreams by removing barriers to creation: through intuitive technology that simplifies the user experience: interface, software, and maintenance, multi-axis rotary milling technologies, and Internet of Things (IoT) analytical platforms. Everything we do is motivated by creating tools for the next great history-maker to Shape Ideas, make innovation, and make life better.
To learn more about DGSHAPE Corporation, please visit www.dgshape.com
About Roland DG Corporation
Roland DG Corporation is a leading manufacturer of digital devices designed to help professionals as well as craft makers and hobbyists transform their imagination into reality. Products include the TrueVIS, SOLJET, VersaCAMM, VersaUV and Texart series large-format inkjet printers and the CAMM-1 and STIKA vinyl cutters for the sign, vehicle graphics, personalisation, apparel and textile decoration industries. The company uses its proprietary cell production technology to manufacture products that are distributed in over 200 countries and regions worldwide.
For more information about Roland DG Corporation, please visit www.rolanddg.com.