'Buy and Win' Promotion Winner Announced!
Sydney, Australia, August 3, 2018 - Roland DG Australia, a leading manufacturer of wide format inkjet printers and 3D devices, today announced the winner of its 30 Year Anniversary 'Buy and Win' competition, open to customers who bought a participating Roland DG device during May and June.

To enter Roland DG Australia's 'Buy and Win' promotion, customers had to write, in 25 words or less, why they chose Roland DG. The winning entrant could then select their prize from one of the following products: EGX-350 Desktop Engraver, VersaLAM VL-1650TU Heat Assist Laminator, CAMM-1 GR-640 Vinyl Cutter, or the newly released LD-80 Laser Foil Decorator.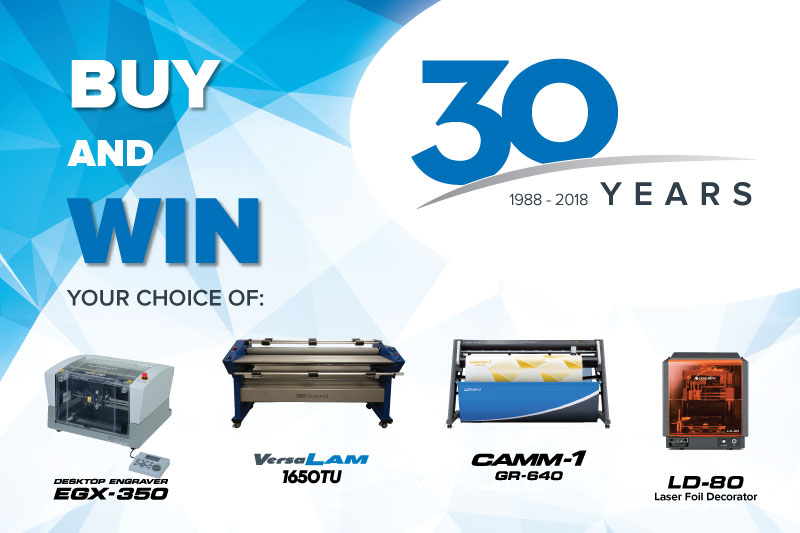 After reviewing the many fantastic submissions, the winning entry came from Jock Martin at Barossa Digital in South Australia, who purchased a TrueVIS VG-640 printer cutter. According to Jock's submission: "If you wish to supply the best possible product to your clients, buy the best equipment. Roland DG fits the bill, simple as that."

Jock was thrilled to find out that he was the winner, and has chosen an EGX-350 Desktop Engraver as his prize, to expand his busy signage business into new areas: "When I decided to upgrade my VS-640 for a new printer, it was always going to be another Roland [DG device]. The TrueVIS VG-640 ticked all the boxes so it was an easy choice. I couldn't believe it when I was notified as the winner of the promotion and having chosen the EGX engraver, I look forward to adding another service that I can offer to my clients."

To keep up-to-date with the latest specials and promotions celebrating Roland DG Australia's 30 Year Anniversary, go to the Promotions page on the 30 Year Anniversary Website: https://www.rolanddg.com.au/sites/30-years/specials