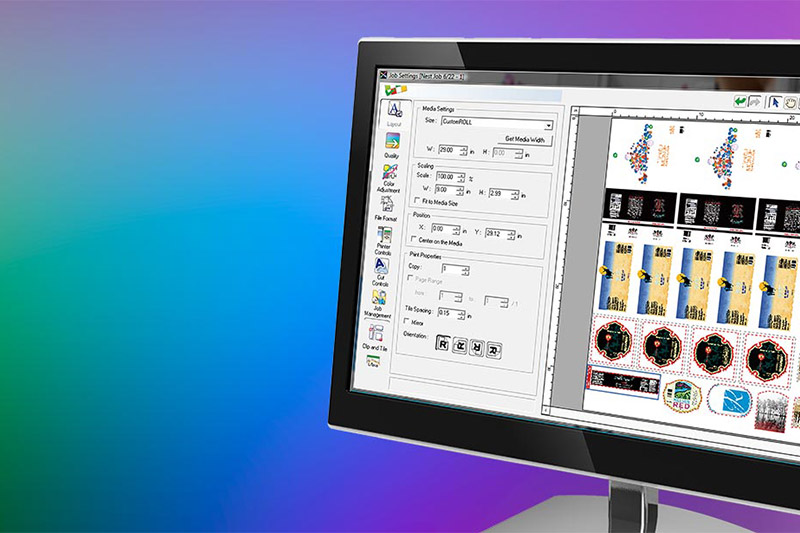 VersaWorks RIP Software Features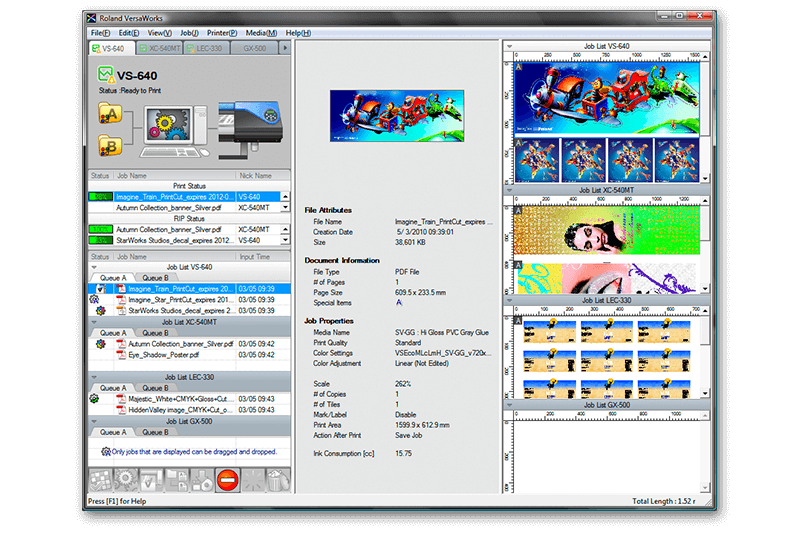 Easy-to-Use, Intuitive User Interface
VersaWorks is designed from the ground up for ease of use. With VersaWorks, you can access most of the functions from one global screen. For example, you simply click on the printer icon to open a printer settings window – or on the job preview icon to open a job settings window. Drag-and-drop capabilities allow you to quickly add jobs to the job queue directly from folders in your computer.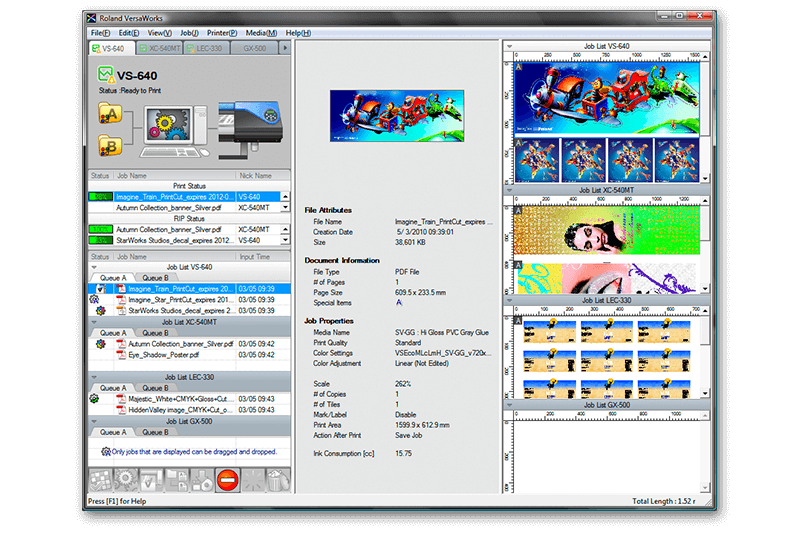 Genuine Adobe CPSI RIP Engine
In order to provide the highest level of compatibility with popular design applications, the latest version of Adobe CPSI (3019) is included. VersaWorks also supports commonly used image formats such as TIFF, JPEG, EPS (Encapsulated PostScript), PostScript and PDF.


Manage Up to Four Devices
VersaWorks supports up to four Roland devices simultaneously, including printers, printer cutters and cutters.

Contour Cut Tools
With Roland VersaWorks, you can manage contour cutting across all Roland inkjet printer/cutters and cutters. You can also pair your Roland GX cutter with an inkjet printer for print/cut applications. VersaWorks features a PerfCut function that produces precise perforated cut lines on both cutters and printer cutters.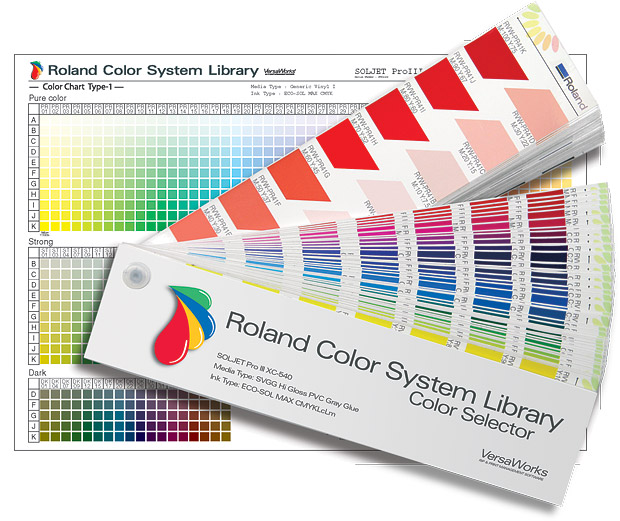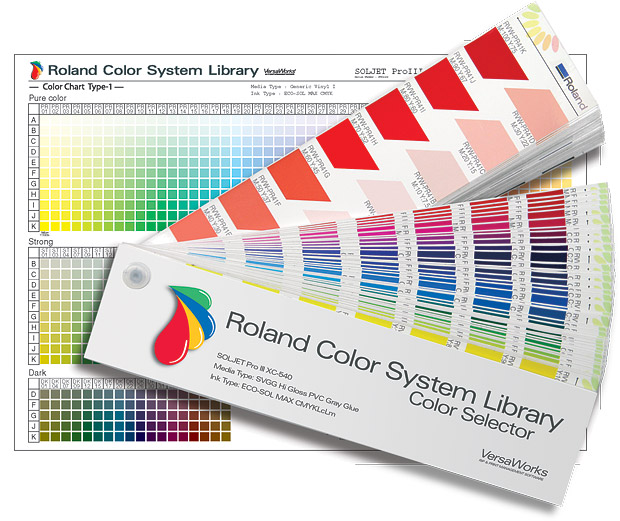 Roland Colour System
Roland Colour is a revolutionary spot colour fidelity system built on the Roland digital colour solution. This powerful spot colour matching system offers comprehensive colour libraries and other features that allow professionals to quickly and easily match logos and other corporate identity elements.

With Roland Colour, you can produce highly customised spot colour swatch books, swatch charts and peel-and-stick swatch sheets – right on your own media. These reference tools can be reviewed with customers to select the right colour to match an established corporate or team colour, or other vector graphic. Using all Roland equipment and supplies, you can print that colour with 100 percent accuracy every time.

There are three libraries within the Roland Colour System. The Roland Colour Library includes more than 1,000 spot colours for printing on any Roland inkjet. The Roland Metallic Colour Library features 512 metallic spot colours that can be printed using Roland metallic eco-solvent inkjets. A third library supports specialised printing options for Roland's white, clear and metallic silver inks and also manages contour cutting functions for Roland cutters and printer cutters.

Built-In PANTONE® Library*
VersaWorks also features a built-in PANTONE® library which automatically converts specific PANTONE spot colours in your design file to a CMYK value.

This simplified workflow reduces the amount of time required for colour matching and enables quick output of specific colours when working with properly profiled media. The extent of colour matching can always be impacted by ink, media and printer setup. For colour-critical environments, Roland recommends using colour verification tools, such the X-Rite i1 colour management solutions.
Spot Colour Replacement Feature*
Included in VersaWorks is a spot colour replacement feature which allows you to automatically replace a defined spot colour with any option from the Roland Colour System – without reopening the file in graphics editing software. Choose from both standard and metallic colours for true creative flexibility.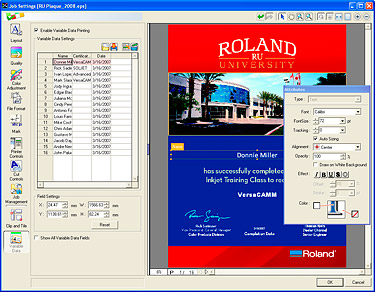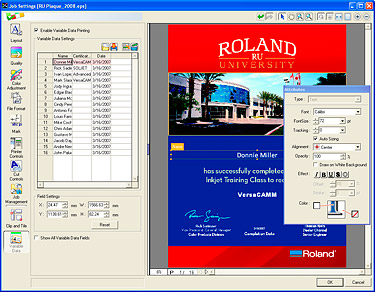 Variable Data Printing
VersaWorks offers Variable Data Printing, a powerful feature that allows users to merge txt or csv data fields with a predefined design template to output variable text and graphic elements. Ideal for point-of-purchase displays, labels, name badges, plaques, menus and other custom graphics, VersaWorks Variable Data Printing allows you to quickly and easily produce a series of digital prints in which text and/or graphics change from one print to the next. VersaWorks Variable Data Printing supports popular design applications such as CorelDRAW and Adobe Illustrator.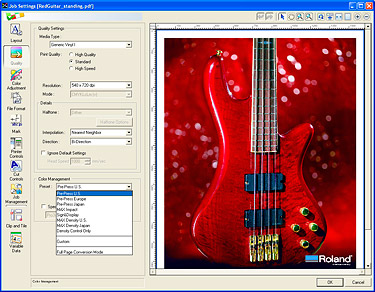 Advanced Colour Management
With VersaWorks, you can choose from five pre-set colour matching settings, including US Prepress, Euro Prepress, Sign & Display and others, to achieve the best image quality for the application at hand. Other advanced features make VersaWorks one of the most convenient and comprehensive RIPs available, including the ability to preserve the purity of primary colours, adjust calibration curves, independently render intents for raster and vector objects, and simulate output colour on screen before printing.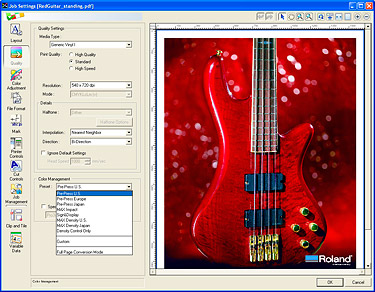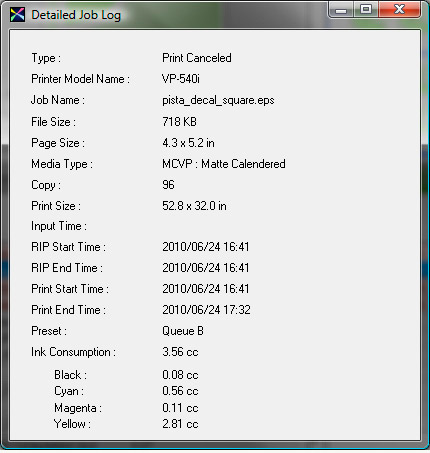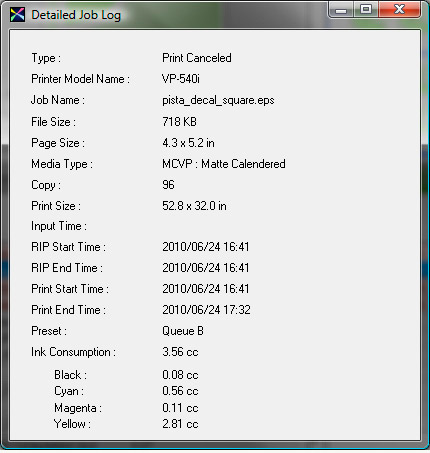 Advanced Job Log Feature
The Job Log feature within VersaWorks keeps a comprehensive record of all jobs that are processed through its queues by tracking the job size, ink usage, printing time, media information and more. The log information can be exported into Microsoft Excel supported formats (csv or xml) for record keeping purposes or for further analysis such as monitoring the ink and media usage.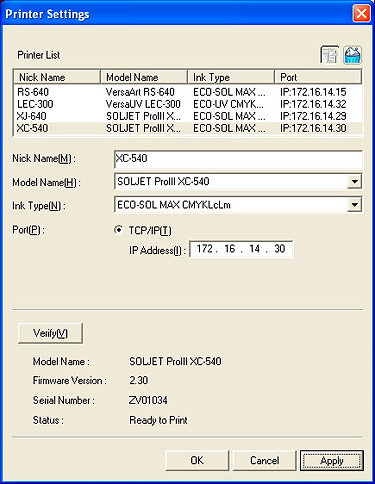 Full Network Support
VersaWorks allows you to connect an unlimited number of clients for unattended printing throughout the network. Client computers can send jobs to the server (computer with VersaWorks installed) through a shared network printer driver. VersaWorks also supports full bi-directional communication with the printer, enabling users to poll the width of the media currently loaded on the printer, the remaining ink and the current status of the printer. VersaWorks also supports printing from Macintosh clients, provided that the server OS supports AppleTalk.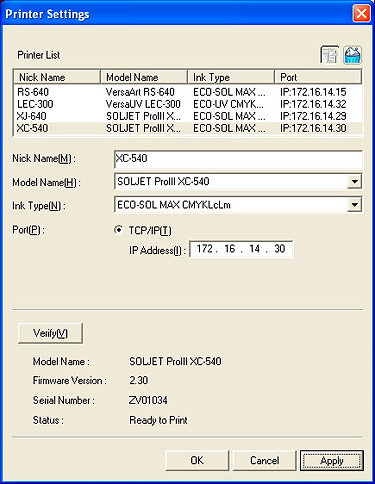 Predictive Ink Calculator and Alert
VersaWorks includes a predictive ink calculator that estimates the amount of ink needed for each job, allowing for flawless unattended printing. When there is not sufficient ink to complete a job, the RIP notifies the operator prior to printing.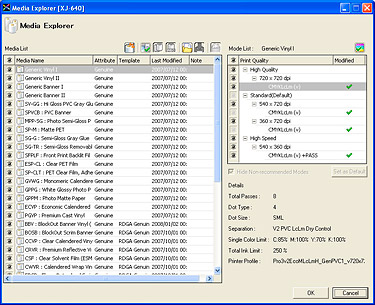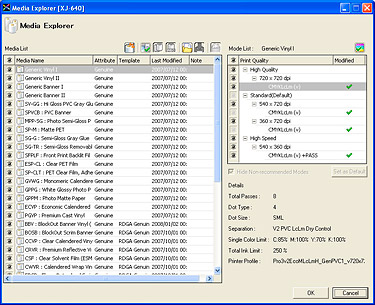 Media Explorer
Media Explorer is a wizard-based media management feature that allows you to create new media types, adjust the corresponding colour settings for each print mode, and create custom profiles.
Industry Standard ICC Profile Support
VersaWorks supports industry standard ICC profiles and comes with a number of profiles for award-winning Roland media. VersaWorks is also compatible with profiles created through standard profiling packages. Additional profiles are available through the Roland@NET service.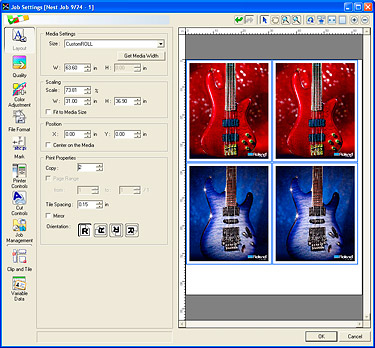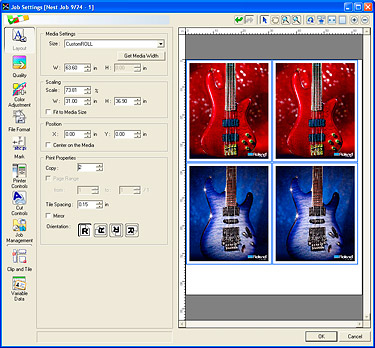 Advanced Layout Tools Including Tiling and Nesting
Advanced layout features streamline the printing process, allowing you to save both production time and media. Using VersaWorks, you can manually or automatically tile jobs that exceed the media width or that need to be cut into smaller sizes. Modify tile sizes easily by typing in precise parameters or by dragging the tile border with the mouse. Minimise your media usage with the nesting feature that allows you to print multiple jobs together. After nesting, you can manually mirror, rotate, resize or change the position of each job. You can also select the Reorder function, which automatically rearranges the jobs into the most media-efficient layout option.