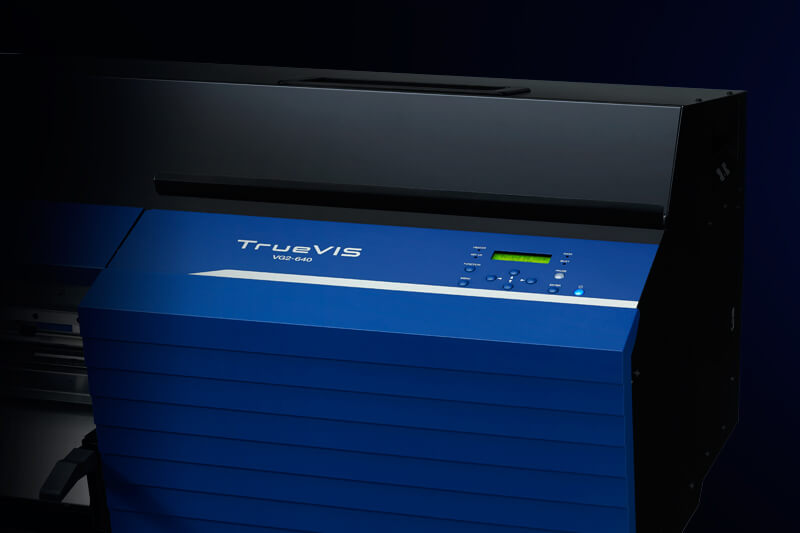 TrueVIS VG2 Series Printer Cutters Features
A New Generation of TrueVIS Eco-Solvent Ink
In addition to seven colours (CMYKLcLmLk) plus White, new TR2 ink includes Orange and Green, increasing breadth of colour gamut and adding real impact and high visibility to graphics. For even richer prints, a new Multiprocess Color Function has been developed so that Orange and Green ink can be used in all file types as a process colour or spot if specific colour matching is required. Plus, it's now possible to print then laminate graphics in as little as 6 hours* for same-day installation
True Rich Color Invented Here
In order to take full advantage of the VG2 series' superior colour reproduction capability and the wider colour gamut provided by new TR2 ink, we developed a True Rich Color preset. Now vibrant colour can be combined with neutral greys, smooth gradations and natural skin tones to create stunning graphics. This pioneering print quality is unequalled for durable graphics.

Productivity Features
Improved workflow
The VG2 takes machine efficiency to a new level with faster set-up time and sequence optimisation, reduced maintenance ink consumption, and a range of features to power your productivity.
New Media Take-up System
An optional TUC4 automated take-up system offers two modes to expertly handle everything from thin films to heavy canvas materials and provides rock-solid take-up stability for simple post print processing.
Nozzle Mask Function
The VG2 is built on renowned Roland DG reliability and is engineered to keep you up and running. In the unlikely event of a blocked nozzle users can specify which section of the printhead to use, allowing production to continue with minimum impact while awaiting a RolandCare engineer.
Roland DG Mobile Panel
For streamlined print production, Bluetooth-enabled printer management allows you to remotely control your printer more than ever - test print, clean and troubleshoot your VG2 from your tablet or smartphone.
Certified to Assure High Standards and Lasting Quality
The TrueVIS VG2 with new TR2 ink is now approved for several certifications that promise excellent reliability and peace of mind.
---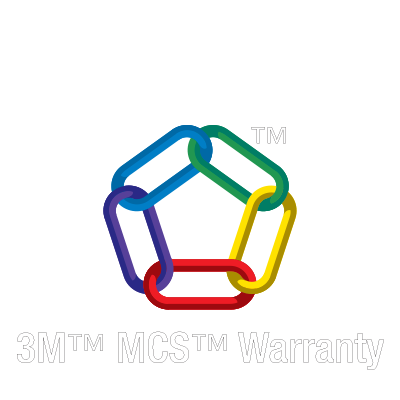 The VG2 with new TR2 ink is certified for long-lasting results by 3M™ MCS™ Warranty, providing your customers with assurance of the quality and reliability of their graphics.
More Information about 3M™ MCS™ Warranty
---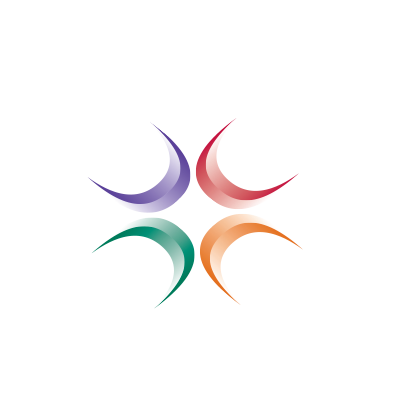 The VG2 with new TR2 ink is also certified by the ICS Performance Guarantee which provides protection for up to 4 years for outdoor durability and up to 7 years for indoor durability.
More information about Avery ICS Performance Guarantee
---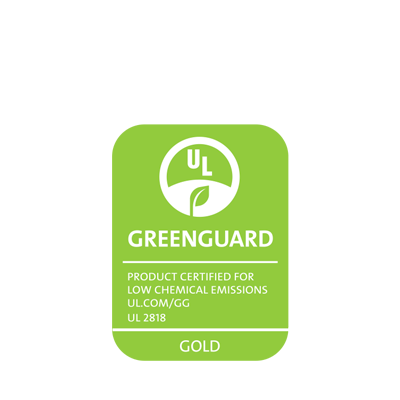 The VG2 with TR2 ink is certified GREENGUARD Gold for safe indoor graphic applications.
TrueVIS VG2 outshines competitors in Independent Tests
"Under each test condition, the eight-color Roland TrueVIS VG2-540 with Orange ink produced a larger color gamut than most eco-solvent/latex ink devices tested to date by BLI…with the VG2-540 reproducing many hard-to-match colors in our corporate color accuracy test extremely well."
Joseph Tischner,
Wide Format & Cut Sheet Production Analyst
Buyers Lab, Keypoint Intelligence
Independent Reports Available for Downloading
VG2, CMYKLcLmLkOr

VG2, CMYKLcLmLkWh

VG2, Dual-CMYK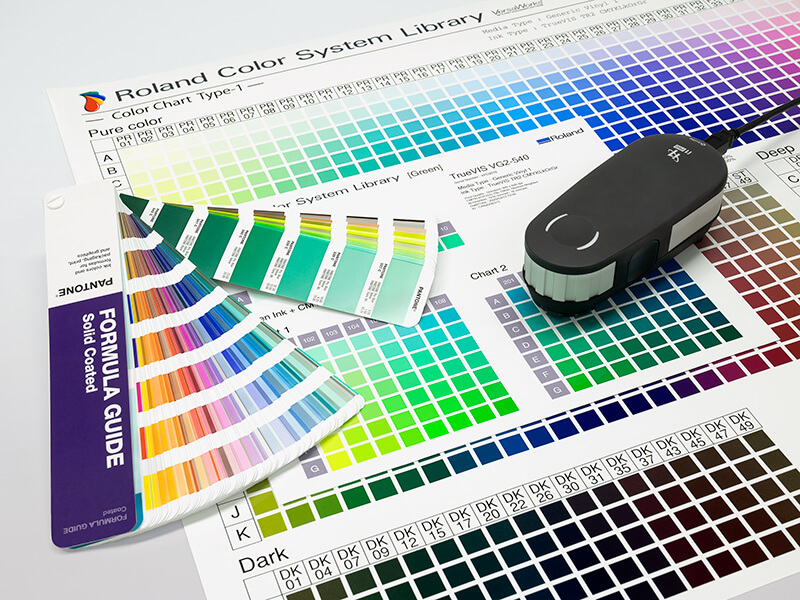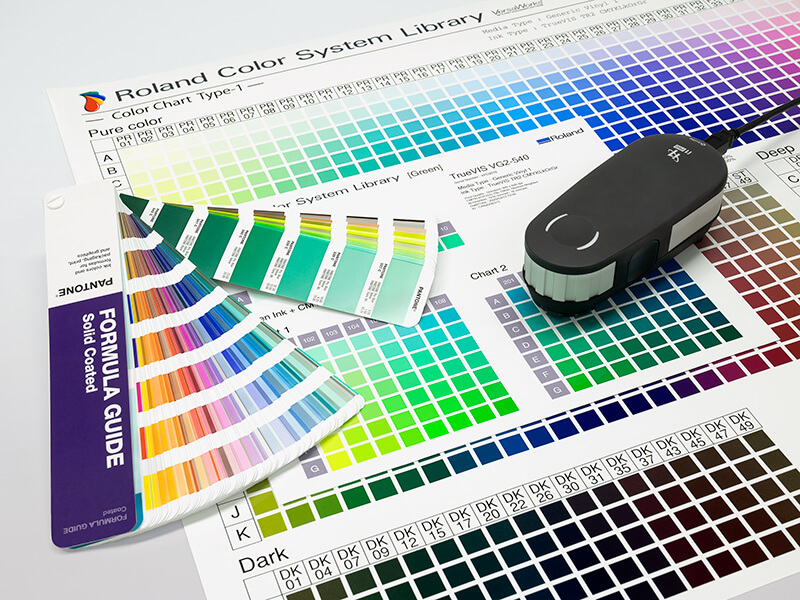 Quick and Easy Spot Colour Matching
Standard colours such as Pantone® or DIC can be quickly matched with accurate results using the Roland Colour System Library. With approximately 260 new spot colour references for Orange to Red areas and Blue to Green areas now available, specific targets which had been regarded as unreachable or difficult to match can now be easily achieved.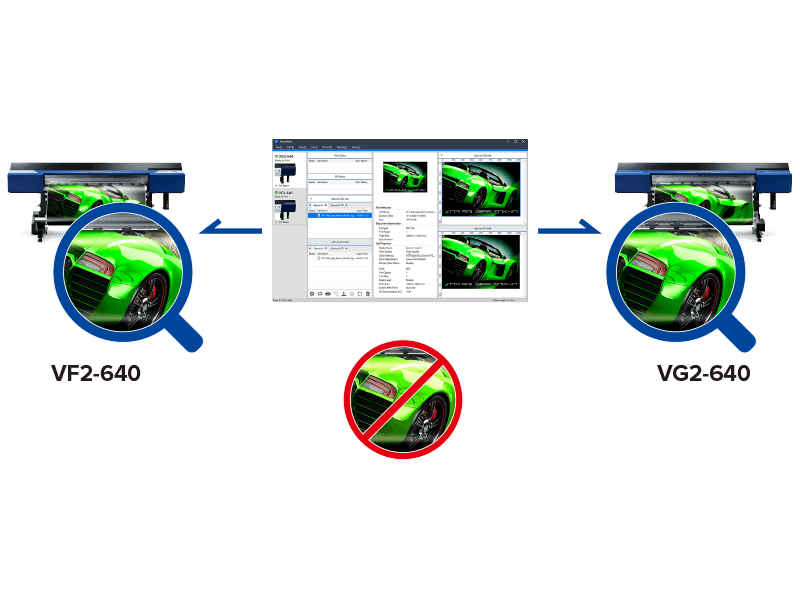 Advanced Colour Matching Function
A newly developed colour matching function makes it easy to reproduce matching colours among multiple VF2-640 printers, as well as between TrueVIS Series VG2-640/540 printer/cutters, when the same ink types are used. The function is ideal for producing consistent colours when using multiple printers for high-volume jobs, or printing large graphics among several printers. It also compensates for colour differences caused by ageing printers or print head replacements.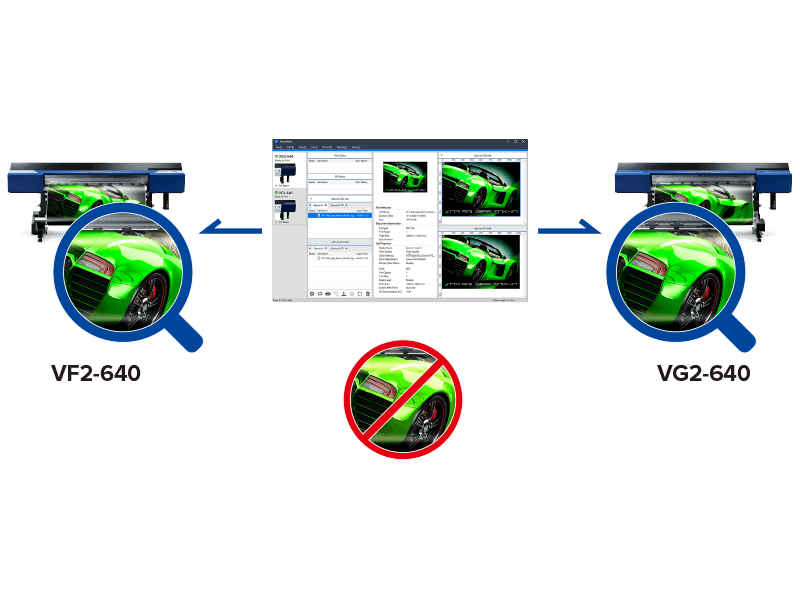 Includes VersaWorks 6 RIP Software
The TrueVIS VG2 series includes the latest VersaWorks 6 RIP software, featuring an intuitive interface for smooth operation and job management and 64-bit native support and dual-core operation for processing PDF, EPS, PS and PDF 2.0 files with precision and speed.
Simplified drag-and-drop interface to quickly add jobs to the print queue.
Five print queues, five hot folders and unlimited queue settings.
Color-Matching function to ensure consistent colour between multiple same-model printers – print, scan and transfer colour values between matching Roland DG devices***.
Built-in Pantone® and Roland DG Color spot color libraries.
All the advanced and easy-to-use features of VersaWorks including cropping, tiling, nesting and processing of complex files with transparencies and shadows.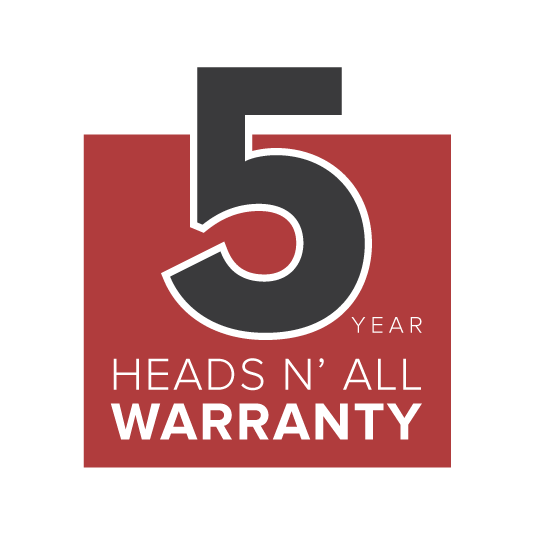 Reliability, Warranty and Support
Built to provide years of reliable service – even in the most demanding print environments – Roland DG's wide format printers come with a 1, 3 or 5 Year Warranty.

Roland DG has earned a reputation for long-lasting, high-performance devices, backed by first-rate customer service. This support includes expert technical assistance, videos and free Roland DG software updates for the lifetime of the machine.

Roland DG's international ISO certifications are your assurance of quality products and service.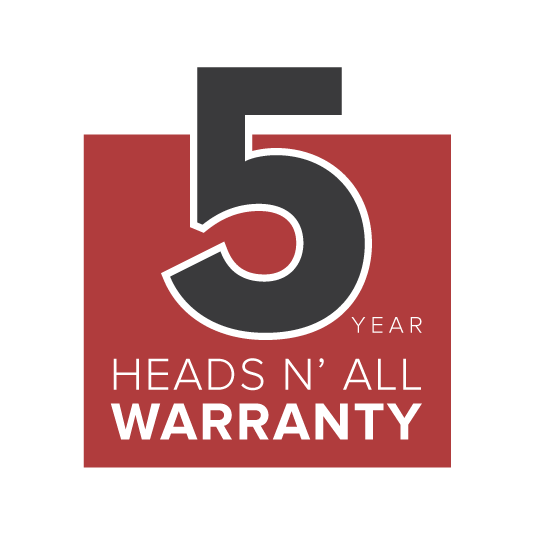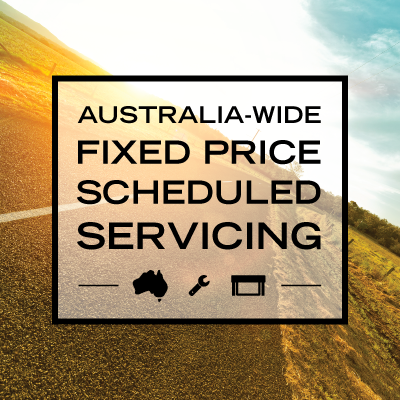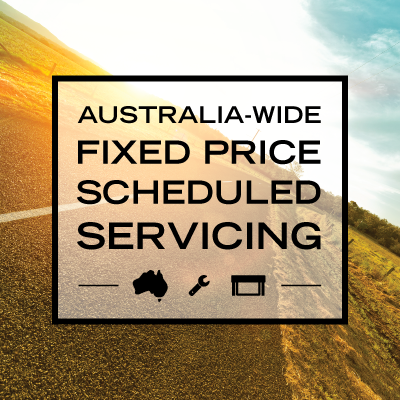 Fixed Price Scheduled Servicing
With Roland DG's Fixed Price Scheduled Servicing, travel costs for scheduled preventative maintenance services are fixed. Knowing the price of your service gives you guaranteed peace of mind, allowing you to more accurately plan the costs to your business.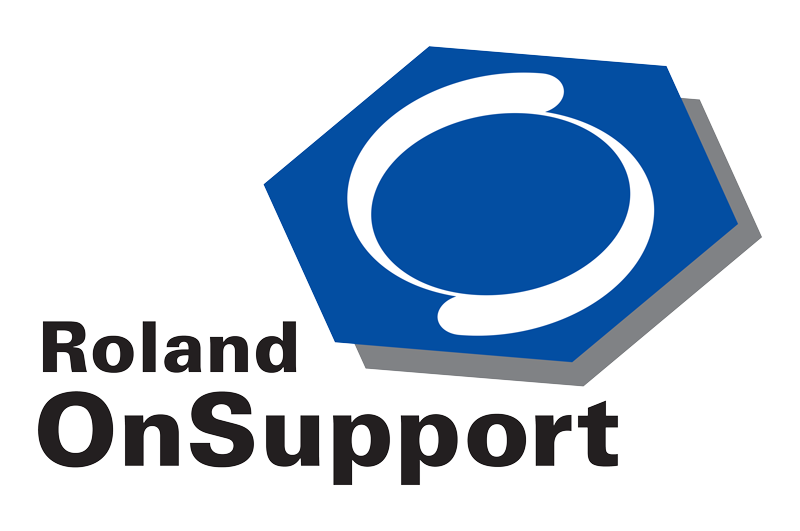 Roland OnSupport for Remotely Managing Your Printer
The VG2 Series features Roland DG OnSupport, an online customer support system that allows users to remotely track the printer status. OnSupport sends e-mails to users notifying them when a job is starting, is completed or when ink is running low. Users can download firmware updates and important product information at an exclusive website in just one click.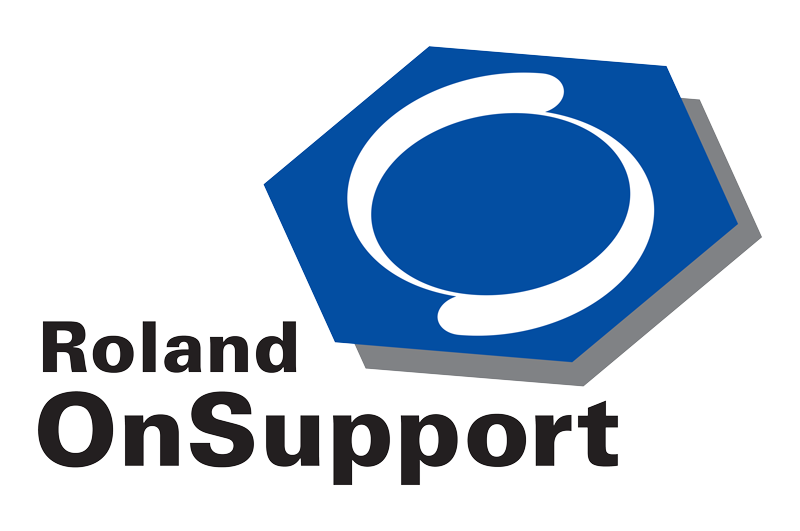 *Tests performed by Avery Dennison on MPI Range digital media. When using this media, prints produced on VG2 with TR2 ink can be laminated after a 6-hour period when rolls or images are properly ventilated and loosely wound.
**3M™ MCS™ warranty currently applies to CMYKLcLmLk. Warranty currently excludes Orange, Green and White ink. Warranty for Orange, Green and White ink is under evaluation. Users of 8c configuration can select 7c for full conformity..Avery Dennison™ ICS™ Performance Guarantee currently applies to CMYKLcLmLk and White. Orange ink is currently excluded. Users of 8c configuration can select 7c for full conformity.
*** Valid only when using the same-model printers with the same ink type and configuration. Files must be printed with the same print settings including "Media Type" and "Print Quality".