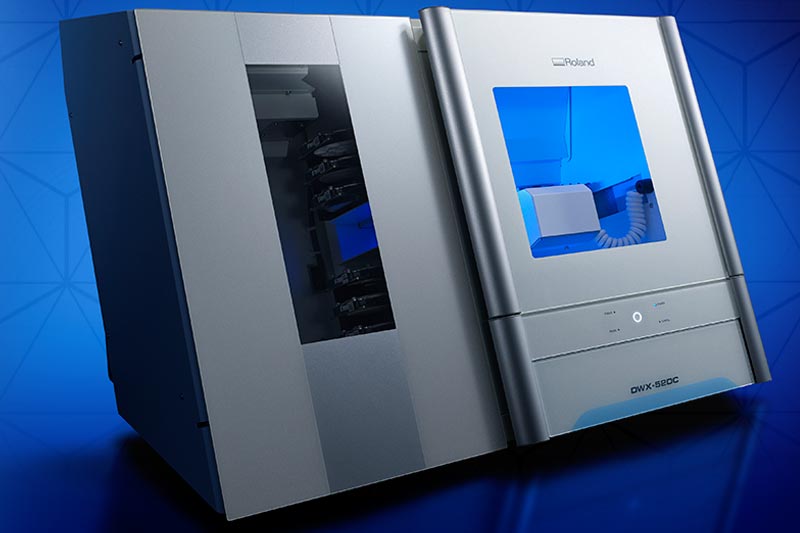 5-Axis Dental Mill with Automatic Disc Changer
DWX-52DC Dental Milling Machine with Automatic Disc Changer
LIST PRICE

AU $49,494.50

RRP inc. GST




RENTAL PRICE

AU $992 / Month

For 60 months inc. GST




Roland Rental
The ultimate in ease, material flexibility and unattended production, the DWX-52DC dental milling machine is designed to greatly expand your lab production and profit. Featuring a 6-slot Automatic Disc Changer, 15-station Automatic Tool Changer and other automated features, it gives users of all skill levels an exceptionally powerful, efficient and affordable dental restoration solution.
Highly Productive Unattended Milling
Power it on, let it go, and automatically mill numerous dental restoration jobs with complete unattended confidence.
Additional Features
Six Adapters Included
Easy set-up with new O-Clamp System
Intelligent Tool Changer (ITC)
Automatically swaps out tools that have reached their tool lifespan
5-axis Milling
Sturdy and efficient ball screw-driven system with 5-axis simultaneous operation
Virtual Machine Panel (VPanel)
Includes user-friendly VPanel for easy production and device monitoring
Integrated Ionizer
Reduce dust and static build-up when working with PMMA
Clean Milling Environment
Powerful internal dust collection system and automatic cleaning brush for clean milling
Air Volume
Automatically changes air volume based on the CAM material data