The demand for UV printers has grown steadily in recent years, with the technology fast replacing traditional methods such as screen and pad printing as it becomes more affordable and accessible. Allowing for direct-printing to non-traditional surfaces such as acrylic, wood, metals and glass, UV printer owners can transform ordinary, low cost objects into personalised, high-profit items. Smart phone cases, headphones, power banks and other electronic accessories are all great ideas for UV printer owners who want to expand their business and stand out from the competition.  

Business owners in many industries would agree that customers are increasingly looking for new and interesting ways to promote their brands, often dictating what they want, where they want it, and when. They are seeking quality rather than quantity, and are willing to spend more per purchase, especially if they can personalise the product in some way. The affordability of UV printers combined with their ability to customise an almost limitless range of three-dimensional objects, is appealing to business owners who want to meet the demands of their customers, and grow their profits by creating high value, unique products. 

What Benefits Does UV Printing Technology Provide? 
UV printing technology has the potential to change a business dramatically, giving owners more time and freedom to innovate. Economical for one-off and short runs, you can realise a return on investment quickly with a UV printer.  

1. Extended Capabilities in a Small Footprint  

UV printers can produce high quality colours and white ink with small details, add gloss effects, and precisely apply primer. Benchtop devices can print onto three dimensional items up to 100mm and even 200mm high, while integrated UV printer cutters can print then cut in a single device.  

2. Great Quality and Colour Accuracy 

The latest advances in UV printing technology have enabled sharp quality, even on a small scale, and outstanding colour reproduction capabilities. When creating packaging mock-ups, quality and accuracy are essential for building customer confidence in your business. 

3. Easy to Integrate with Existing Systems 

The learning curve for new equipment is one of the factors that determine how soon you can expect a return on investment. Ideally, any new system should work in harmony with existing workflows. The most effective UV devices are optimised to work with the most popular RIP platforms, as well as the manufacturers' proprietary systems. 

4. Condensed Workflow and Faster Amendments 

Unlike many print methods, UV ink is cured instantly using low temperature UV lamps, offering a number of workflow advantages. Output can be handled immediately, and the range of printable substrates is greatly increased. With so much on-board functionality in a UV printer, producing proofs, small runs, individual items and making rapid amendments based on customer feedback, is a quick, cost-effective and user friendly process, mostly handled within a single operation. 

5. The Freedom to Innovate 

With the flexibility and speed of UV digital technology, you are no longer bound by time and budget constraints. This is where you can truly add value to your business, by innovating and experimenting with materials and specialised effects and finishes.  

6. Impressing Clients and Winning Business 

Ultimately, business owners secure more business by offering a more compelling product than their competitors. The range and quality of output gives the freedom to demonstrate a variety of capabilities, giving you the power to stand out and truly elevate to another level. 

What Factors Should You Consider Before Purchase? 
Graphics providers and small business owners should be paying close attention to what's happening in their local areas to identify immediate customer needs that are not being met. They should look at what competitors are doing and talk to customers and colleagues to find potential leads, ideas and opportunities. 

Before deciding on a UV printing device, consider the following: 

1. What you would like to create – many items simultaneously? Custom, one-off items on a small scale? 
2. Your budget – are you looking at a larger large flatbed machine? Or are you looking at a smaller device? Can you fund your purchase (e.g. Roland Rental)? 
3. Environment – what space do you have available? Desktop, workshop, room? 

Whether you already supply customers with branded give-aways and personalised accessories, or you would like to expand your product offering to meet increasing customer demands, UV printing is the perfect solution.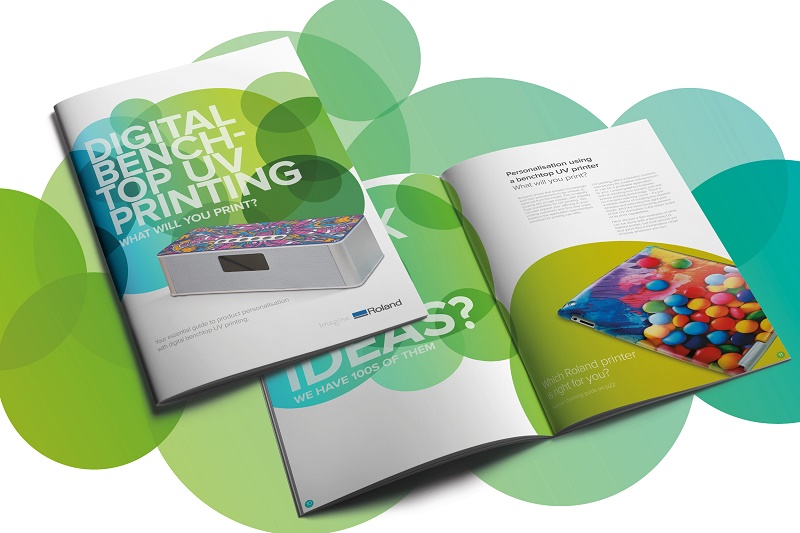 Roland DG's UV Printing Technology
From large format UV flatbeds and print and cut devices to a range of small benchtop UV printers that are extremely cost effective and have a small footprint, there are a range of UV printing options offered by Roland DG that will suit a variety of needs. 

To discover Roland DG's full range of UV printers, click here. If you would like would like to download a FREE copy of Roland DG's Digital Benchtop UV Printing Guide, click here or a FREE copy of Roland DG's UV Print and Cut Guide, click here.