The demand for custom designs on a large scale has been increasing over the years, however due to high costs and limitations of traditional print processes, it is only since the advent of digital dye sublimation that high quality photographic images have been printed on to everyday items such as soft signage, textiles, cushions, and even furniture.
Soft signage has become very popular across Asia and Europe, with a dominance of banners and flags used for short-term advertising. Increasingly, we are seeing this trend expand to smaller regions like Australia due to the cost effectiveness of advertising via this medium.
Why is soft signage becoming more popular?
Soft signage provides a wide variety of applications to help your business grow and in turn become more profitable - not only from the wide range of applications, but also from the operational and workflow savings gained.
Printed textile media can be installed and displayed in many different ways such as long drop down banners in department stores or at exhibitions, banner stands, window displays, table dressings, and flags, to name a few.
Significantly, textile medias are much easier to apply and install than traditional PVC media. For example, imagine a grand format size PVC banner of 5 x 10 metres that weighs about 25kg vs. a polyester fabric banner of similar size weighing less than 5kg. Due to this smaller volume of the job, soft signage media generally consumes less landfill and also degrades faster than PVC, hence creating minimal environmental impact.
Some textiles, such as polyester, match vinyl for outdoor durability in extreme weather, and some are even better than PVC substrates that can erode in cold conditions and stretch in hot temperatures. It is hard to find a media applicable to the signage market that offers this level versatility and ease of use.
Fabric banners are often used at trade shows and exhibitions because they can be folded for transport into a much smaller and lighter package with much less chance of damage than a rigid sign or PVC.
Go Beyond Signage with Commercial Interiors
Interior decoration for commercial and domestic fit outs also leverage this textile technology to provide designers and consumers a wide variety of surface finishes and effects that can be applied to standard surfaces or even complex surfaces that may be difficult or expensive to address with traditional materials. This allows for custom results to be achieved to retain consistency from a corporate branding perspective or to represent true uniqueness and personalisation.

Impressive wall finishes to represent wood, marble or metals can be created, often at a fraction of the cost of the traditional materials and the labour to install them. It allows for the refresh of an area or a building to be achieved within a reasonable budget and timeline.

In addition, interior applications can generally be applied in the same way that you apply self-adhesive film or wall paper. Roland DG has used this solution to create a "wood-look" trade show wall (see photo below), that was printed on a textile media on the Roland DG VersaUV LEC-540, then applied to panels and mounted to the wall. Many visitors to the stand were very surprised at the result and needed to have a closer look before they could believe it.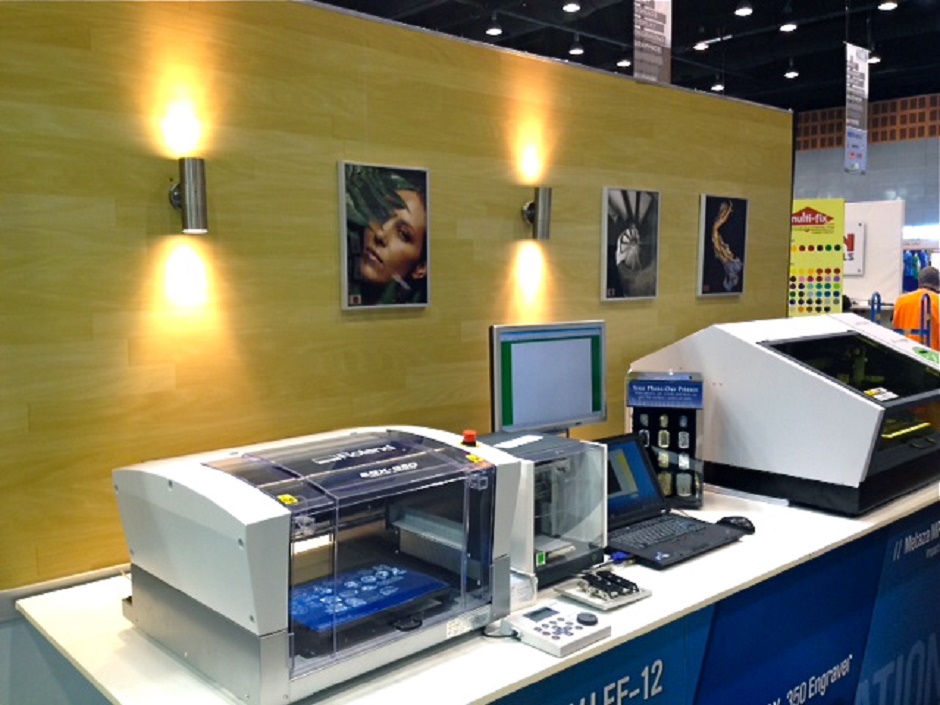 Leverage Existing Technology
There are several methods soft-signage and interiors applications can be produced – a business can either leverage existing printer and ink technology or invest in new equipment for dye sublimation.
There is a large variety of textile medias available for soft signage applications or interior decoration that are pre-coated and don't require dye sublimation solutions. The availability of receptive substrates means that you can use existing investments in Eco-Solvent or UV printers to service these applications so that you don't need to invest in new equipment.
Dye sublimation printers can also be employed to achieve these applications. Dye sublimation systems are ideal if you are getting into large volumes or wanting to work heavily with textiles and address garments or sportswear. Roland DG offers several printing solutions available to address the application of Dye Sublimation.
Now is the Time
It is clear why soft signage and textile applications are so popular. If you haven't considered soft signage and textiles for your business, you could be missing out on many opportunities from the ever-increasing demand for these applications. The more that textile soft signage and interior decoration is adopted by the industry, the more we can all contribute to a cleaner environment, and take advantage of the cost savings, increase in productivity, and wider service offering along the way.
For more information on soft signage and textile solutions, go to
https://www.rolanddg.com.au/applications/sublimation-printing-solutions
or to read more about Roland DG's dye sublimation solutions, go to
https://www.rolanddg.com.au/products/printers/sublimation